First and foremost many thanks to Ronimo Games for giving us this opportunity to review their game.
Awsomenauts is a Multiplayer online battle arena (MOBA) game where you get 2 teams of 3 players each facing one another with an aim to destroy the enemy. If youre into working with your mates as a team then this is the game for you. You certainly cant go all gung ho as I realised while I was practicing against the AI.  Try to do that thinking youre superman and you will soon learn what being surrounded by enemies feels like and will be lucky to last 30 seconds.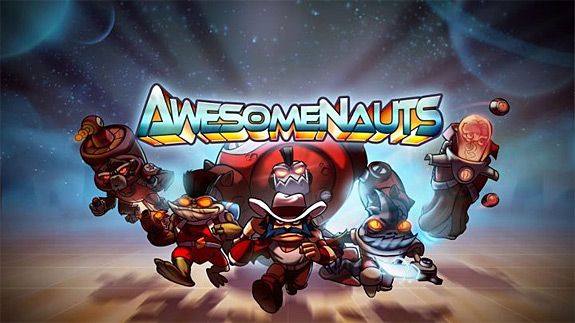 Your aim is not only to destroy the enemy, but to defend as well.  Defend your "turret". There are a few of these that need to be kept safe (your opponents have theirs as well which you need to destroy). Yes, sure when you see it at first you think, man this thing can survive on its own. However rest assured, its not invincible! Within the space of 10 minutes, one of my 3 Turrets was destroyed by the enemy. You MUST keep your available health in mind. As soon as your health meter starts to deplete, make sure you top it up by picking up health packs.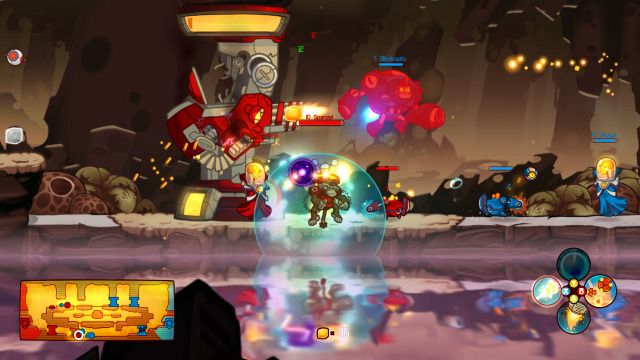 I have to admit that the intro to the game is SUPERB! Enjoyed the music that they have given it. It gave me that nostalgic feeling which took me back to when I was a youngster watching cartoons like Thundercats, He-Man and Mighty Orbots!
The more you play the game, the more characters you will unlock who have abilities that can take down the enemy better than the previous one. Each character has a unique style and voice which makes it that little bit more special. Sure, if youre playing online, you will come across many who will kill your character in an instant. But its just the way the gaming world is. Some would have played the game alot more than you. But if you want to catch up, you gotta keep playing.
During the game, you can teleport back to your base. Around the platform, you will collect coins, these coins will and can be used for purchasing upgrades and weaponry from your base. However, teleporting can take a few seconds, so make sure you have the enemy no where near you otherwise youre "dead meat"!
On the overall, I would say that I would rather play online against other players than against the AI as the AI is abit more organised and will have than advantage. Sure you can send instructions to your AI using the D-Pad shortcut, but this wont mean they do what you tell them specifically. Mind you, when you play the AI, its regarded as training mode. So best way to practice this game in my opinion is to play it online.
A decent game on the overall and that feeling that I got when I started the game gives it a plus point from me. I would give this game a rating of 7/10. Available from the XBL arcade now at a price of 800MS points.