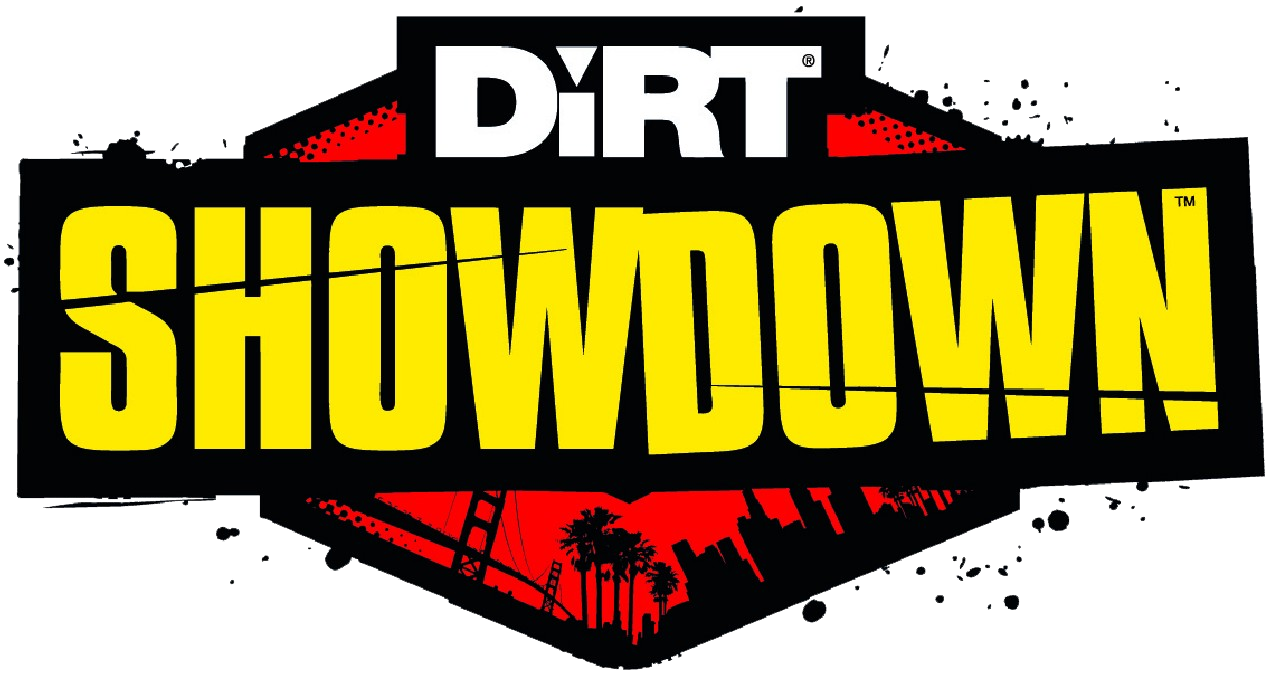 When I heard Codemasters were making another DiRT game I was licking my lips at getting to tuck into another racing masterpiece, however DiRT Showdown is slight spin-off from the regular style of previous titles. This may put a few of the purist racing fans off buying it but please don't be so hasty and carry on reading, once you've read my thoughts then make your judgement.
The heart of the offline side is Showdown Tour; here you will take part in four championship sections (Pro, All Star, Champion and Legend) each leading to a final showdown event. With a wide variety of different styled events this mode feels fresh no matter how long you end up playing for. For example it'll chuck you into a Race-Off which is your classic racing around tracks vs a number of AI opposition and then the next one might be a Knockout where the objective is to knock opponents off the edge of a raised arena. A new feature from previous DiRT games is the boost and health gauge throughout all the events, hence even when just racing you can add a little spice by trying to wreck other cars or give yourself a speed boost on the straights to overtake someone.
Other types of events included are 8 Ball racing which include cross-over tracks that lead to massive chances of collision; I felt these were quite similar in style to those used in GRID. Eliminator is the old whoever is last as the timer ticks down gets eliminated from the race. Rampage is simple, bash the hell out of all the other cars to earn points, the harder you hit the more you score. Head2Head recreates the Gymkhana magic from DiRT 3 but you don't have to just do tricks for a high score you also need to do them in a certain order quicker than your opponent who is attempting it at the same time. This for me was one of the toughest and intense events I had played as if you mess up once the pressure is on to trying make up some of your lost time.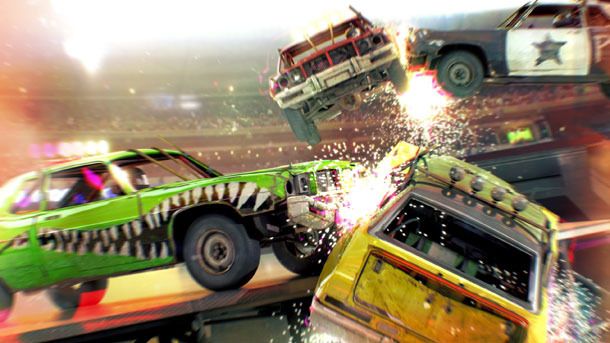 There are a few more events like Domination, Smash Hunter and Hard Target which are equally enjoyable in their own right but I'll let you figure those ones out in your own time when you buy this game. I must say it's refreshing to see such varying styles in a driving game with aspects of Racing, Destruction and Style itself (featuring Ken Block's brand new Gymkhana 4 HFHV Ford Fiesta).
That brings me nicely onto the car selection that is rather large from muscle cars, saloons to pick-up trucks and vans. Something suitable for all occasions and if they aren't quite up to your standards you can now upgrade on the handling, power and strength. It also lets you choose a livery for your vehicle and personally I adored some of the funky designs especially from No Fear.
Whilst playing if you get what you consider to be a great score you can now send a challenge directly to a friend to tempt him/her into trying to beat it. This is a nice feature as I've already sent about 20, lost more than won but it's still satisfying to get one over on a mate.
If that isn't enough for you then the free-roam Joyride should fill your appetite in two large locations, one being the Battersea Compound and the other Yokohama Docks. Here you will have a selection of missions to complete in your own time in whichever order you wish to, such as Donuts round objects, Drifts, Jumps and on the spot spinning. To add to that they've also hidden small DiRT Showdown packages/logos all around for you to find, the last one is always in the place you think you've already checked. In my time playing the game I've already invested 5 hours of gameplay into this yet there's still missions to finish and packages to find. The no time limit element means you often get caught up just driving around trying stunts or super jumps.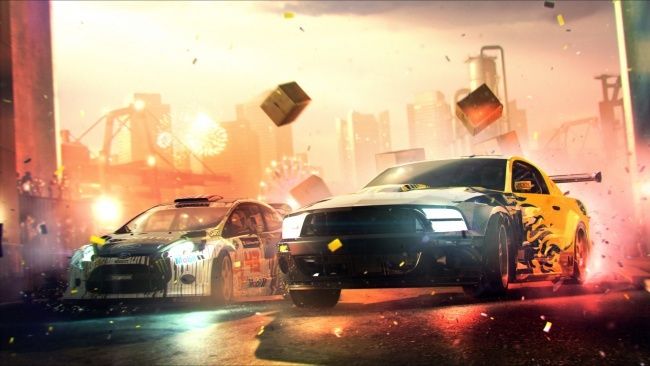 Should you be lucky enough to have an Xbox Live membership then you'll also have Multiplayer mode to sink your teeth into. In previous Codemaster games this has always been one of the key aspects that set it apart from the rest because it's geared up for communities and groups of friends to appreciate the fun factor with each other. Transporter (Capture the Flag) is back and a great laugh as always when your inches away from securing the points when BAM someone parks in the way to steal the flag and take home the points.
Two new party games have been added to the mix in Speed Skirmish (each players has to reach all the checkpoints scattered about and first one to get all of them wins) and Smash n Grab (hold onto the loot for as long as you can to earn points). It's also worth noting that many of the single player events are available to play as well. The more you play and the higher finishes you get, the more fans you earn on the road to becoming an online superstar.
Graphically the whole menu layout and in-game experience is smooth and stylish using vibrant colours to attract your eyes to. As an arcade racer in general you can usually expect a slight cartoonish approach but the cars look spot on and damage is as realistic as you'd like with bumpers smashed in or hanging off.
To summarise, there is a little bit of everything thrown into DiRT Showdown to appeal to gamers of all mindsets; whether you want to race, annihilate other drivers or show off your skills doing tricks and jumps. With its pick up and play nature makes it accessible to all ability ranges, something that everyone can enjoy. I'd be more than happy with what the single player has to offer but when you add the multiplayer side it creates the ultimate fun package for an arcade driving game. Although I haven't mentioned it yet, the social side is boosted by the link between the game and YouTube so when you smash a car to pieces you can instantly upload it for the whole world to see. It may sound like an easy thing to say but if you want to have fun then you must purchase this game. For the variety and overwhelming enjoyment factor I will be giving DiRT Showdown 9/10.