As far back as I can remember I've always had a fascination for trading cards of all genres (from football to cute Japanese animals) but for all the wrong reasons, one being to collect all the shiny ones because they looked "cool". Never in all my collections have I even attempted to play an actual game with them in the way the cards have always been intended to be used. Then through various media outlets, trailers and even in television shows I heard about Magic The Gathering trading card game. There's no way I could imagine myself playing that vs a real opponent face to face for fear of total annihilation. That is of course until now.
After various gaming platform releases and many exciting decks later, nearly 20 years have passed since the franchise began and I've only just decided to have a dabble at it. Magic The Gathering – Duels of the Planeswalkers 2013, published by Wizards of the Coast, seemed like the best place to begin my journey. Luckily for me it seemed they knew I was venturing in this new world as they had included a tutorial which is a must for all new players. It runs through the basics you'll need to know, the rest will come with experience. For the veterans of the MTG console series there's new optional mana tapping, selecting which lands to use on which cards.
So here's the concept of the game, each player has a deck of cards featuring energy (mana), creatures, instant hits, spells/sorcery etc. The players start with 7 cards, taking it in turns to make their moves in stages with the ultimate goal of remove all of the other players health down to zero to win the game. With 10 brand new decks there'll will be one to suit everyone but my current favourite is a fire style deck, basically for all out power attacks from some creatures that will turn a game for you.. You can unlock extra cards for each win gained with each specific deck.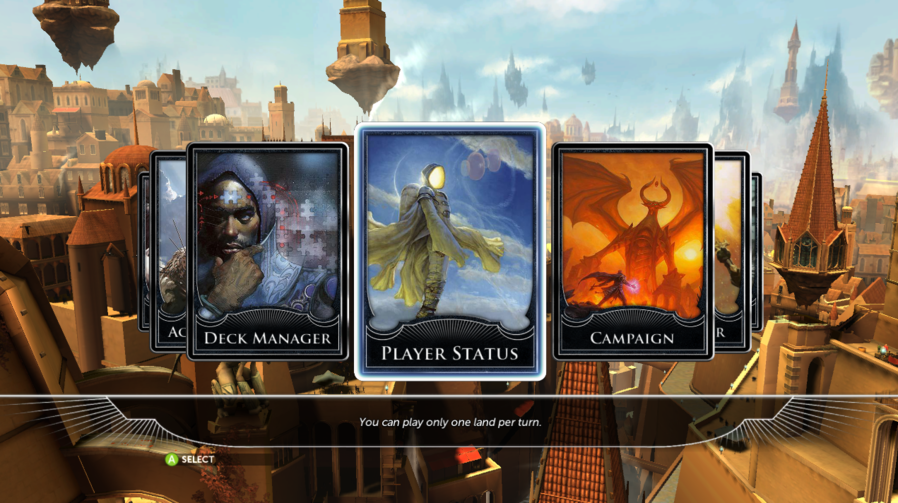 There are a number of game modes but I'll start with those within the campaign section, it follows your journey as a wizard or "Planeswalker" through various encounters towards a final challenge against evil mastermind Nicol Bolas. I found my first match rather a struggle even thought I was on Mage (recommended for all newcomers) difficulty and had tips on which help you see which cards are playable. In a pure fluke I picked up a win but afterwards I started to focus on the game more, slowly grasping additional aspects of a game. It's a strategic minefield at times as you can be literally a move away from turning all the odds in your favour or massively against yourself, example being when I accidently killed my own creature leaving me open for attack. I was doomed and took my first loss but this only added to my experience as it makes you think "Should I try a different deck style?" or was luck just not on your side. On a higher difficulty (not exclusively) you will discover that certain decks are useful for specific challenges/opponents so try to get to grips with many decks to be a versatile player. Once completing this campaign you unlock Revenge mode which is basically a much tougher AI of your previous encounters.
Challenges mode is based on scenarios you may face during a battle and you must work out how to overcome the odds which are usually heavily stacked against you. It certainly prepares you for future battles and will test your skills. For me it got frustrating real quick as I ran out of ideas; however that isn't to say it wasn't fun at all because it was but be ready to explore all possible outcomes and to learn more about the cards you are dealt. This moves me onto Planeschase mode, this will unlock once you pass the first stage of campaign. It put me up against three other planeswalkers in a fatal four way match, I decided to pick them off one by one and didn't receive any damage until there was one left. Now comes the ridiculous part, I didn't see how it was done but Ajani had 250+ health points to my mere 20. I had no chance of winning and it felt like all the work I'd done in the match was wasted. Also worth mentioning you can use up energy to roll a dice on your turn that could do as little as adding a few points to a creature or as extreme as changing all the cards on show, which can destroy any strategies that are in place.
Multiplayer wise there are a number of options so I'll tell you my favourite, Two-Headed Giant, which is a 2vs2 battle. It allows you to team up with AI or a friend via Xbox Live. So if you have any friends who own this game you'll have great fun, sharing tactics and thinking about what's best for the team rather than just yourself. Also on the online side of things is the Planechase mode and a free-for-all which is Planechase minus the dice rolling.
Visually its vibrant colours really stand out meaning the whole menu, interface and gameplay looks slick and smooth. Crisp graphics are needed in today's HD world, with this certainly delivering in all areas including the cinematic cut scenes.
A little bonus I received once I started up the game was a code which you can redeem online for a voucher to collect a MTG booster pack from a local participating store. Clever marketing as if you get hooked on the console and fancy venturing into the real world of battling you've already got a pack to start your collection.
Overall despite being apprehensive at what I thought would be too difficult to get my head around, it turned into something that could easily become an addiction (in a good way of course). It's now on XBLA for the measly price of 800 Microsoft Points it's worth a punt if you're like me and rather alien to these games. Should you already be a fan of the series then what on earth are you doing reading this? It's surely a no-brainer with optional difficulty settings to challenge yourself or play against real people online from the comfort of your own home. Either way whoever you are, as long as you posses a small portion of patience I'd highly recommend purchasing this, there's more game time to be had with this that most full price retail games.
I'm giving this a very solid 8.5/10