Being a fan of the Madagascar movies, I was looking quite forward to playing the game with Alex, Marty, Melman and Gloria. Based on what I had seen, it looked like the game was going to be a party style game and all about fun and entertainment.
So I loaded the tray up with the disc and started the game. To my surprise, there was no intro to the game. Its not really classified as a downside anyway.
On to the menu selection. This is presented by way of Alex (the lion *raise your hands and shout like the crowd) standing in what looks like a Big Top. You then have to move him to select what you would like to do. The options you have are:
Story, Missions, Circus Mode, Profile,Settings
Story:
Self explanatory.  This is basically what looks like a brief outline of the movie (which is out in cinema's on 19th October 2012 – in the UK). You have a chance to play as either of the characters and your mission is to try and get back to new york by increasing the popularity of the Travelling circus's that you are working for to get enough money to move on to the next destination. Makes sense? It didn't to me either. You are guided by the penguin Skipper. He instructs you to get to a target location on a map and also tells you what the characters are able to do (special abilities if they have any) and how to apply them in reaching your goal. Once you reach the location, you need to return to him the complete the task. Be weary though, The people are walking about. They don't like stray animals and start screaming like animals when one comes near them. Also be careful of Animal Control. All the characters can disguise themselves from Animal Control and humans by the simple push of a button. However this will slow you down and any actions taken e.g a sneeze from Melman, will stop the effect of the disguise.
Alex - The Master of Disguise
So I did a few of the missions set out by the skipper and enjoyed it for a little bit hoping that it will get a little bit more exciting to encourage me onto the next stage. Sadly, that never came. Although, the game allowed me to add another controller to aid my mission (2 controllers = use of 2 characters) it just never really took off.
Missions:
Mini Missions which you unlock via Story mode can be replayed here.
Circus Mode:
This is more of the multi-player / party game where 2 can face-off against one another in mini challenges.
This is divided into Locations and each location is further divided into a party game.
Locations are: Rome, Pisa, Paris, London and an unlockable location.
Game modes within the locations are: Ticket Sales, Snack Toss, Cannon, Flaming Ring, Tight Rope & Trapeze.
A small intro before each game mode tells you what to do and how to do it.

Ticket sales puts you in a head to head competition for who can supply the most tickets to the customers by pressing the correct button combos. Easy you may think. However, if your opponent is better than you and has quicker and more accurate reaction times, youre in for an embarrasement.
Snack Toss puts you in the big top again infront of the crowd who are demanding snacks. You have to, again, press the correct button corresponding to the correct snack. Slower reaction times compared to your opponent means you will lose out on points and suffer a defeat.
Tickets Sales are soaring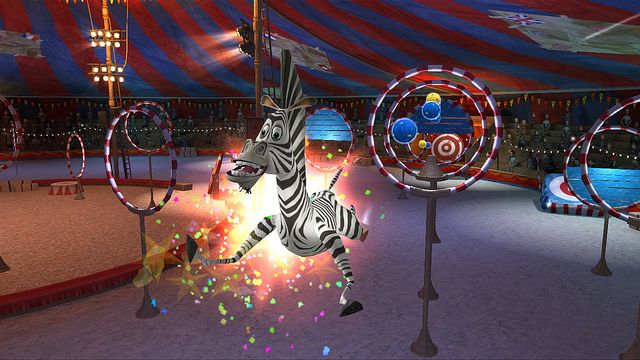 Marty the Animal Cannon Ball
The Cannon mode blasts your character out of a cannon ball and you have to collect as many items while flying through hoops. And try to perform mid air tricks to impress the crowd.
Melman & Gloria Battle to get across the Tight Rope
Whilst all the party game modes are fun at first, they do become repetitive and boring. You can tell that the game makers have tried to make it more interesting by increasing the number of combinations therefore making it more difficult, however this can get frustrating for a game that probably youngsters will steer more towards buying than adults.
There are a couple of niggling issues in the game that could be avoided. One of them being the fact that every time you ended a party mode game, you would have to go back to the main menu in order to select another party mode or restart the same mode again. Would be handy to be able to go straight back into the party mode.

The graphics left me feeling like I was playing a game from 8-10 years back. Harsh I maybe, however in a generation where gaming is in HD and 3D, the expectations are high.

Personally, I think they have missed out on making the game "Better with Kinect". Perhaps it was a time factor? However, for a game to entertain and what seems like one that is aimed at the younger generation, No Kinect would mean possibly less fun in whats supposed to be a Party game. Abit of a let down really.
All in all, the game can keep you entertained for a few hours however in the long run would probably get put to the side or even traded in/sold due to bigger title releases. I'll let you be the judge of that.
Based on the above I would give the game a rating of 6/10. A big improvement needed in order to compete with other games on the market that are in the same category.
The game is available to pre-order from Shop-To.net at a price of £33.85
Last but not least, a mention and thanks must go to XCN (The Xbox Community Network) who gave us the chance of reviewing the game.