When your influences are coin op and console classics like Final Fight, Double Dragon, Streets of Rage and Battletoads whats a boy to do apart from going out and making his own Beat'em Up. 99Vidas is a labour of love and borrows heavily from those classics and it's a genre clost to my heart. With 6 stages at present and more to be added 99Vidas takes you all over the world where you face hordes of enemies and relentless boss battles. Thankfully you can take on this chalenge with up to 4 players in co-op both local and online. With my interest piqued and a mind full of questions I grabbed Bruno Carvalho from the 99Vidas team and put my burning questions to him.
1) Hi Bruno thanks for taking the time to speak to us. Can you give us a little background on 99Vidas? 
Thank you and your readers for giving us the opportunity to share a little bit of what 99Vidas is. Well, 99Vidas is a video game, developed in a partnership between the homonymous Brazilian gaming podcast and QUByte Interactive, inspired by the classic Side scrolling Beat'em Ups of the 80's and 90's, with gameplay elements of modern gaming, in order to build an experience that suits both those who miss that golden age of gaming as well as newcomers looking for a challenging experience with the genre. The name, 99Vidas, comes from the Brazilian term for '99 lives' the so-called achievement for gamers, even before achievements were officially implemented in games.
2) You used crowdfunding to fund the development of the game. Why did you decide to finance the game that way?

We decided to pursue crowdfunding instead of more traditional funding methods for two reasons. First because we believe that, 99Vidas, the Podcast, being a product of the Internet Age, it would make sense we use that venue. Also because that would help us measure the interest of the community in the game, while also making it more personal, inviting them to be part of the project.

3) I grew up playing 2D side scrolling beat 'em ups in the arcades and at home. How did the initial idea for game come about?

As we all grew up in the 80's and 90's, 2D side scrolling Beat'em Ups played a big role in our gaming lives, be it in the Arcades or at home with the 8 and 16-bit consoles as well, and it's also a genre we currently miss, it only felt natural that we brought the story we were trying to tell, with the elements of gameplay we wanted to present, and the references we wanted to use, to the type of game we believe would be the best fit to share such experience. Actually the whole premise of 99Vidas is based upon those experiences we all share as gamers - No matter how distant we effectively were, there's still that part of our lives that was somewhat similar, and the game genre that better translates that feeling of having a friend with you, through a journey, helping you overcome challenges, is the Beat'em Up.

4) 99Vidas is clearly a homage to old school side scrolling beat 'em ups. Which games specifically inspired you?

As big fans of the genre we definitely draw inspiration from the classics we played growing up, namely Double Dragon, River City Ransom, the Capcom classics (Final Fight, Captain Commando, Cadillacs and Dinosaurs), also Konami (TMNT, The Simpsons) and SEGA (Streets of Rage, Golden Axe), some other that are not as well-known, such as Vendetta (Crime Fighters 2) and The Ninja Kids (Taito), while also observing the evolution of the genre post 16-bit era games with titles like Guardian Heroes, Castle Crashers and Scott Pilgrim.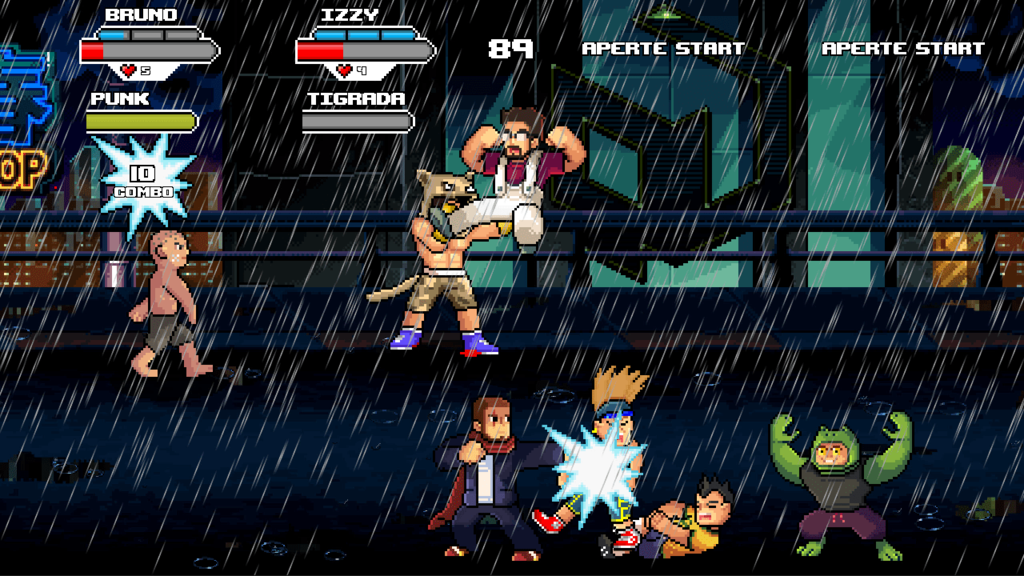 5) In 99Vidas you have the option to play as one of eleven characters who can channel one of five elements. What exactly does this entail and how does it impact the gameplay?

The Elements play a major role in the gameplay of 99Vidas. Not only they grant each of the characters special moves, magic and combo upgrades that make use of those elements (Fire, Water, Earth/Rock, Air, Lightning) but also influence their characteristics, meaning Speed, Strength and Stamina of Players vary according to their elements, i.e.: A character of the Rock/Earth element is stronger and more resistant, hence can deal and sustain more damage but is slower while moving, while a character of Lightning is faster but causes less damage, or even that of Water being a more balanced character, with the stats being evenly distributed, as water is usually referenced as an element associated with balance.

6) You decided to go with a pixel art style over pre-rendered 3D sprites or 3D models which seem to be the route most developers take these days. Why did you choose this look for the game?

We really wanted to stay true to the spirit of the Beat'em Up classics we have mentioned, so we decided that only through the use of Pixel Art we would be able to build a visual experience that better represents the look and feel of those games, reminding us all of that feeling of when we first laid eyes on those same games.

7) There are 2 Special Attacks and 3 different weapon types in the game. Can these be combined to pull off some skull crushing combos?

Definitely! One of the biggest differences 99Vidas has compared to the more classic Beat'em Ups is that we make use of 2 attack buttons Punch (Weak), Kick (Strong), instead of just one, which allows the gamers to build combos and extend those by combing them with the Special Attacks and Weapons as well.

8)There are eight skills in the game and they are all upgradeable. Can you explain how this system works and how it affects the game?

Skills, such as Special Attacks and Combo Finishers, are upgradeable by the use of the EXP points the player gets over the course of the game by defeating enemies and collecting items. By spending their EXP points players can buy entirely new skills, or boost those they already own, by adding elemental damage, like freezing enemies for instance, or even adding multiple hits to a combo finisher for extended damage, and many others.
9) Most ID@XBOX games only allow local co-op but you have also included online co-op. Why did you think it was important to include this option? 


We truly believe that our role as Game Developers is to try our best to offer the gamer the best game experience, but also keeping their power of choice. We know there are a lot of gamers out there who miss the couch co-op of the old, mainly in Beat'em Ups, but there's also those whose friends are no longer nearby, or those that have quite a few friends online which they usually play with, so who are we to limit one side or the other and make that choice for them? That's why we decided it was our duty to build our game based on both premises and let the player make that choice, how they want to play the game. And we do hope they have fun both online and sharing a couch with their friends and family.

10) 99Vidas is a trip back in time for me. But how are you balancing the old school gameplay for this generation of gamers but still keeping the nostalgia vibe for older gamers like myself?

99Vidas is being developed by gamers, for gamers. I know that sounds cliché, but that actually plays a major role in the way we're building it. The game is full of references, both graphical and gameplay-wise, of not only the classics in video games but also the pop culture and life-style of the 80's and 90's all over the world. But all of that would mean nothing without a solid gameplay to support it and that's where the more modern elements come into play such as the aforementioned upgrade system, which allows players to customize their characters and have them evolve over the course of the game.

11) As a huge fan of 2D side scrolling beat 'em ups I can't wait to get hold of 99Vidas. But if you had one chance to help persuade our members that 99Vidas is a game worth checking out – what would you say?

We hope you can all give '99Vidas - The Game' a good look, not because it's a game inspired by and full of references to the classics, but mainly because we're building this game with a lot of heart and the goal to make it a game we'd love to play, as the gamers we are, just like all of you. If you love the genre and have been missing it, would like a fun and challenging experience that merges classic and modern gameplay elements, we truly hope, and believe, you will find it here. Have I mentioned that the story in the game offers a very interesting explanation on why the title is not translated but rather called 99Vidas worldwide? ;) Thank you all, Absolute Gaming community, for this opportunity and hope you can be as excited about the game as we are to bring it to you!

Thanks to Bruno for taking the time to speak to us today. I can't wait to get my hands on the game. We will be running a competition to win one of ten Xbox One codes in partnership with 99Vidas and QuByte Interactive to giveaway for 99Vidas on its launch date. Stay tuned for more details on this competition coming soon.