If anyone locked me in a dungeon, there'd be screams.
Bit Dungeon Plus is one of those games that originally I thought I would enjoy. Unfortunately that wasn't to be the case. I was looking forward to playing it after seeing some footage a while back because it reminded me of the types of games I use to enjoy many moons ago specifically Zelda.  So how did it all turn out so badly?
Bit Dungeon Plus starts out with zero explanation or storytelling and when I say that I mean it. Your left to work out everything yourself or do what I did and cheat. You awake in cell with your trusty sword so at least you have that. But your friend who was with you has vanished. You must now set out on a monster killing spree and that's as much as I can tell you and I only know that much because I've read the press release. I know sometimes less is more but surely something would have been better than nothing.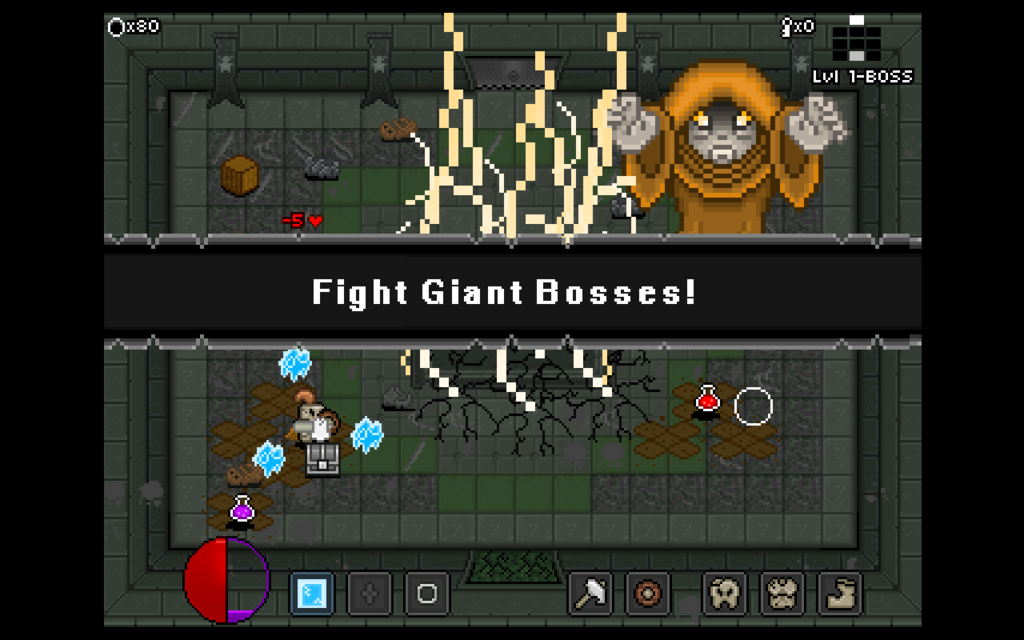 Bit Dungeon Plus is an action adventure game for one or two players in local co-op that features roguelike elements. You must fight and pillage your way through floor after floor so you can level up your character by finding precious loot and on the off occasion a stat boost which will make your character even more powerful. 
Bit Dungeon Plus gets very repetitive very quickly and after only a couple of hours I wanted to give up. This is how each and every floor works, kill everything in sight so you can pick up a key which will unlock a door. Go to the next floor kill everything in sight pm you can pick up a key which will unlock a door. Go to the next floor, I'm sure you know what I'm getting at here. After a while you will come across a red door which has a boss to fight behind it. Slay whatever boss is behind that door and you can move onto the final area or just continue on until you finally get killed. When you die it's permadeath so you will have to start over from the beginning. When you die the only thing you can carry over are the various customizations for your character and any of the game's special items that unlock when you collect different armour types that you have got from your previous gameplay. 
Loot is everything here and thankfully the loot system is reply simple to use. Pick up new loot and the game automatically does a comparison to the piece you have equipped at that moment. The difference in stats are shown for good and bad and if you decide to drugs your new piece of equipment it's just a quick button press and it's done. You don't lose your old piece of equipment but for some reason I managed to drop mine a lot.


Some rooms that you clear will get you permanent stat boosts. You have three different stats which you can boost hitpoints, strength and critical. You will have to tailor your choices to the way your playing the game. Attacking is quite satisfying and you can charge your normal attack into a charge attack. The charge attack let's your character move with much greater speed until you unload on whatever enemy you see fit.
Stamina also plays a part in the game and it's vital for your blocking ability. If you run out of stamina and try to block an enemy attack you will be dazed and this leaves you wide open to enemy attacks and at higher levels they will attack you without mercy. It's quite easy to keep your stamina levels high though and it will recover over time. Magic is used exactly like your charge attack. You charge the magic attack up and let rip on whichever enemy you deem to be your latest victim. You are only allowed to use your magic cyst amount of times and it can only be replenished by picking up potions from enemies that you have slain throughout your quest. You are limited to using one type at any given time though.
As much as I wanted to enjoy Bit Dungeon Plus I don't think I'll ever go back to it because nothing about it makes it stand out from the crowd. I like the look of the game and the retro inspired soundtrack is okay but nothing special. Fortunately I have many other games that deserve my attention.
Developer: KintoGames
Publisher: Dolores Entertainment S.L. 
Website: Bit Dungeon Plus
Twitter: @Dolores_Ent
Price: £5.59
Review code supplied by XCN.