7 years ago, we saw the birth of what would go onto become one of the most played games and franchises on the Xbox 360, Borderlands, developed by Gearbox Software. Well this year they`ve returned to the next-gen with their new MOBA title, Battleborn. Battleborn was released this month and features heavy multiplayer as you take on hordes and hordes on robots and minions, and many other mental things. But, is Battleborn a game that is going to make it stand out this year? Or is It a game that is going to fall away from the rest of the pack? Well, I have to say, my opinion, is I think it has the potential to be a real stand-out game.
Battleborn is a new, MOBA first person shooter, where you can take on the roles of 25 different characters, as you fight hordes of enemies, indulging into high, fast pace multiplayer action, and story campaign, which consists of 8 missions, that sit alongside the three versus multiplayer modes. You`ll play either solo or with a friend throughout, as you take on 8 missions that last roughly around 30-35 minutes each to complete. The story itself follows a bunch of heroes that convey and rendezvous at the last time, as they try to save eternity, from the mind blowing destruction forces, which are the Varelsi. You`ll face 1000s of the Varelsi, as they`ll do anything they can to stop you and you converge from winning and saving the eternity. It`s actually a very simplistic storyline, and isn't a storyline that is really going to convey you and your mind into thinking too much. Which could be a good thing, but it also could be a bad thing. If you`re after something that has a gripping, compelling storyline that is going to grip you into the action, then this isn't the game for you I`m afraid. Throughout completing the missions, you`ll find yourself unlocking several characters, and these will then be enabled for you to either take online to the multiplayer side of things, or to use used in the campaign. The campaign itself feels quite episodic too, with a cartoon-style opening and theme to open every mission you`ll do, as if it was a TV episode that was being played. It`s actually a pretty neat way of doing it I think.
One of the great features that Battleborn has and interlinks with both the Multiplayer and Campaign as they are transported across, is the fact that you`re characters stats that you rank up and level, will transfer over to the other half of the game. You`re not having to restart on a character from scratch, which I find lots of games that do, and at times, is quite frustrating. You`ve got a character to the best level you possibly can in single player or campaign mode, and then you jump the ship to the scary world of Multiplayer and online, and you have to restart the whole thing again. Battleborn is one of the first games I`ve played on the Xbox One to do that, and I think it`s a fantastic way of gamers being able to level up and unify their character to their strengths, and then be able to go either into the campaign or online with a near fully upgraded character. The characters are broken down into five factions, and these will determine what the best strengths and weaknesses a character will have. Another way to unlock characters by not only completing the campaign missions, but to complete challenges, that will enable you to unlock characters to enter the battleground with.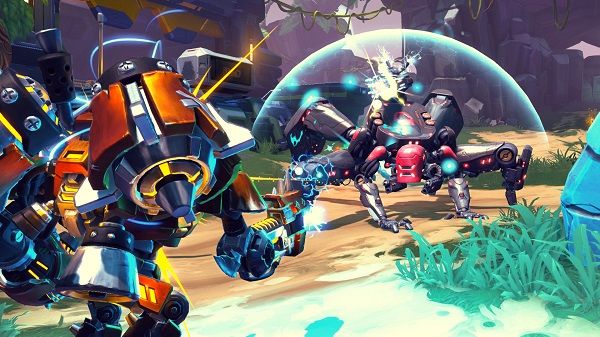 When you jump online, there are three game modes to get yourself indulged and embrawled into. Incursion, which is a mode where you have to see the robot minions go from point A to B, to destroy the enemies, Meltdown, and Capture, which will be the most recognisable mode out of the three I think, as you can think of Domination from other FPS games such as Call of Duty. However, don't expect close combat. These maps are very limited, as you have two maps per game mode. Maybe they`ll introduce more in further DLC, but the maps are not particularly small, which is good as it makes for not so much always dieing and killing and doesn't enable close combat, but some hate big style combat maps, and that`s something that this game offers. It does however though add and enable successful strategic planning, and I`ve no doubt that soon, you`ll have masters of the game that know every route, every back route in the map, and will be winning games and matches non-stop.
You need to think strategically. You need to have a balance of your team of people who are heavily armoured, yet slower to move, and people who are quicker and can prove to be a right nuisance. It`s all about picking the right team. You`ll be able to choose within rounds your helix methods, and what you`re going to give your character for that round. This enables you to play around and see what works best for you and your character, and how you want to destruct the opposition. Challenges and replaying of missions will increase your rank quickly, and opening loot boxes will also prove to be very beneficial, as you can earn a range of things from common to legendary items, all of which can help you to be stronger on the field.
Battleborn is a game that isn't going to be everyone`s cup of tea. If anything, it can take some real getting grips to the controls and is a game that you need to be able to spend a fair bit of time into, to get the true full enjoyment and benefit out of it. So if you`re after a pick up and play game, you`re out of luck. But Battleborn does offer enjoyment and something that is different to your average FPS, and is a game that I think will prove to be very popular. Fans of the Borderland series, will love it, and it`s a game that I think will stick around.