I want you to think and paint a picture in your head. You`re in Seattle, in 1986, and there`s just been the dread Apocalypse. Everyone you know is dead, you`re the last one surviving. But you live in hope, and you get off through Seattle to the Safe house, where you think and hope they may be. But it`s not as it all seems. What drives you to your hopes and dreams after the outbreak, is the same drive that also leaves to your demise. Welcome to Seattle. Welcome to the world of Randall Wayne, and most importantly, Welcome to Deadlight: Directors Cut.
Deadlight is a game that has been released for Xbox One, 4 years after it originally launched on Window, Steam and Xbox 360 back in 2012. Claiming critical acclaim, it makes it way to Xbox One in a new `Directors Cut` edition. Deadlight is developed by Tequila Works, and is published by Deep Silver for next gen consoles, after originally being published by Microsoft Studios for the 360 and PC. It is a side-scrolling cinematic style horror, and focuses on the survival and story of Randall Wayne, a former park ranger who is out on a mission to find the rest of his family, who like everyone else post outbreak, have been consumed and now are part of the Zombie family.
Now, the game, is very simplistic, but offers actually quite a lot of range of variety. You`ll walk from left to right and jump over obstacles and objects that are in your way from that step closer to finding out the truth about your family. Now, throughout, there are several puzzles that you`ll come across, some of which will take some very strategic thinking and minding about finding your way to the end and not getting yourself killed and consumed, either by the zombies, or a mad-set rat man, who you`ll encounter half way through the game. It`s quite nice in that it is a pick-up and play game, it isn't something you have to explore for miles and miles and miles to complete, it`s as simple as getting to your destination, any-way how, and that means avoiding the zombies (or known as the Shadows) and not getting yourself killed by booby-traps.
The levels are designed for you not to engage fully in combat, but rather have a strategic way of sneaking past or using height and hiding places to get past the shadows. Using a range of techniques and options, you`ll be able to sneak your way past the shadows and to your end goal. I`d fully recommend not taking the full out combat approach in this, as you only have a 4-bar health, and each hit you take will wipe 1 bar from you. When you have a crowd of 10+ zombies coming towards you, you could then be in trouble if you go asking for it. Stay stealthy, and strategic and you`ll get through this no problem.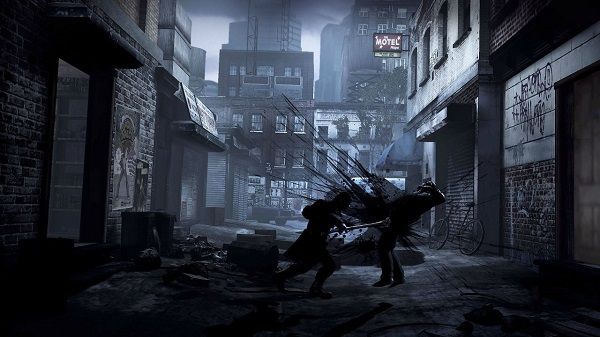 Now, one thing that you`ll find, is that it isn't a very long game to play. You`ll easily do the main campaign/story within a few hours. There are other modes that will entice you for a while but it`s not a game that is going to give you loads of longetivitiy. At a rough price of anywhere between £15 and £20, it may be worth waiting to see whether it comes down in price in any way or form before you make a decision about buying. As I tend to find that anything above £10 for a game that only lasts a few hours will feel like robbery. There`s a few ID games that follow the same thought, and if you`re happy to wait, I`m sure that it won't be long before we see some sort of sale with Deadlight. With the Ultimate Sale coming next week on the Xbox, there may be your chance.
Graphically, I thought the game actually looked very, very nice. It looks similar in a way to Limbo I found in certain aspects, it`s a game that looks unique in its own way. Some of the environments within the game looked stunning for the type of game that Deadlight is, and it`s something that Tequila have really worked well into the game.
The game is great. It`s a great game and I`ve really enjoyed playing it. It offers something a bit different I think that`s out on the market that there isn't too much of (feels a bit similar to Assassins Creed Chronicles in terms of its Gameplay conventions) and it`s a game that offers good puzzling and the need to strategically think about how you`re going to play the game. Challenges come in stages and will give you a variety into the game, and not as simplistic as it may first seemed. If you can look past the price of the game, or wait to see what comes of the sale, then it`s fully worth a pick-up, and worth visiting Seattle, and the world of Randall Wayne.
A huge thank you to XCN for supplying us with a Review copy.