Details

Category: ROOT
Published on Monday, 30 July 2012 12:19
Written by MarcusJonesy
As per usual, I would like to start off by saying a Big Thank you to the Xbox Community Network (XCN) for another opportunity to review a game for them.
Wreckateer is an Xbox Live Arcade game published by Microsoft Studios and Developed by Iron Galaxy Studios. Its all about destruction. At this point, I have to admit that although I had seen a clip from E3 about this game, I knew absolutely nothing about it. But hearing that it was Kinect compatible made me want to give it a go. Although we know the power and capabilities of Kinect, in my experience so far, its not perfect, nor anywhere near perfection. There are plenty of games that do not work well with it at all and a few that work well. So would this game change my trail of thoughts? Read on and find out.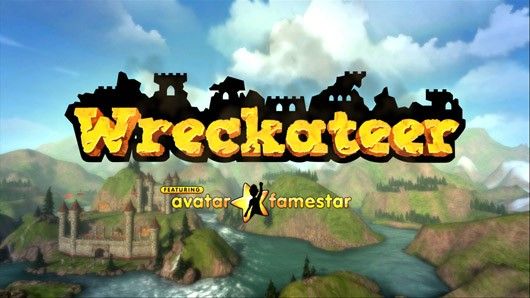 As mentioned above, the game is all about destruction. You take the role of a Wrecker working for a destruction company, and have the help of 2 guys called "Wreck" and "Tinker". They give you tips and advise along the way and are very helpful when it comes to information about what you need to do and how to do it. Wreck calls you "Stone Polisher".  The scene is what looks like the medieval times. Where Kings ruled the land and Castles are their homes. However, as a wrecker your job is to take down these castles using Stones launched from a Ballista (Stone throwing catapault). Okay, youre not taking them down just for the fun of it! As much as that would be fun in itself! Goblins have infested these castles. According to Wreck the only way to get rid of a Goblin…is to wreck the castle!
There is a very handy tutorial at the start of the game to show you the ropes. Without that, I would have been lost completely on what to do.
You start off in the village of Elkhart. This is where you will learn how to use the ballista and how to also use the Kinect to control the stones in the air once you've launched them. You would think its tricky. But precise aiming, control and power can make a huge difference in this game. If youre off, you'll still hit your target, but you'll get fewer points and no bonuses.
As I progressed through the game, I did tend to feel that there was no challenge. After Elkhart, we received word from the king that there were more castles infested with these green mosters and we needed to get a move on to the other parts of the kingdom. Flatrock, Lyons etc. I thought, Ah! A chance for the game to get abit tougher. I was left abit disappointed.
I mentioned "points" earlier. Every time you change the flight path of your launched rock, you get points, every hit you get on a standing castle, you get points, every goblin you get a direct hit on, you get points. I think you're getting the idea by now. You do have a limited number of shots so need to be careful as a missed shot could cost you vital points.
Where do all these points go? Well, they tally up and you collect medals once you run out of shots. These medals are Bronze (a required medal to progress onto the next castle), Silver and Gold. There are bonus points to collect along the way by way of Icons which lie in your trajectory. Can be very handy in adding to your score. If your friends have any of the games, you will see a little graph at the end that shows you how you compared in the score against theirs. If you feel you can improve your score, you can replay the level.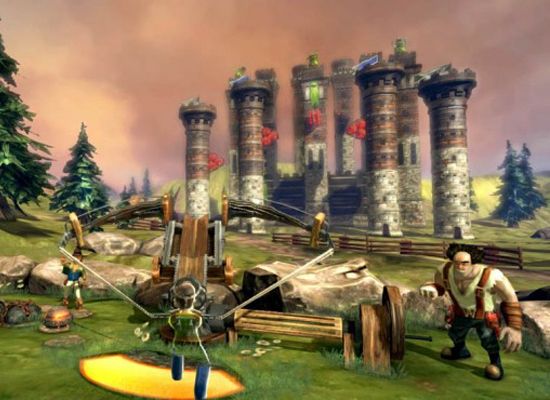 Ready, Aim, FIRE!
Theres not much else you can say about Wreckateer. It's a basic game which relies on abit of common sense. Perhaps some basic knowledge of physics and a sense of imagination (to imagine where the stone will go) would help. But most of the game is straighforward. The graphics are average and the scenery is very cartoon like. It feels like they intended it for the younger generation to enjoy or even perhaps the serious gamer to have a break when theres nothing else to play.
I would therefore give the game a rating of 6/10. The Kinect does respond very well to movement however sudden movement may not register resulting in disaster.They have implemented the use of space well though which has to be mentioned. The fact that you have to step forward to grab the stone, step back to pull it back (the further you step back, the more power you will launch the stone with. Maximum power wont break the Ballista, but it will begin shaking due to the tension in the bow) and throw your arms to let go. All this adds a nice little feel to the game.
Wreckateer is available from the Xbox Live Arcade for 800MS points. If you have Kinect and kids, this may be a game that they will want. Afterall, which kid doesn't like destruction?