Details

Category: Xbox One Reviews
Published on Saturday, 13 August 2016 08:27
Written by KrustyManMeat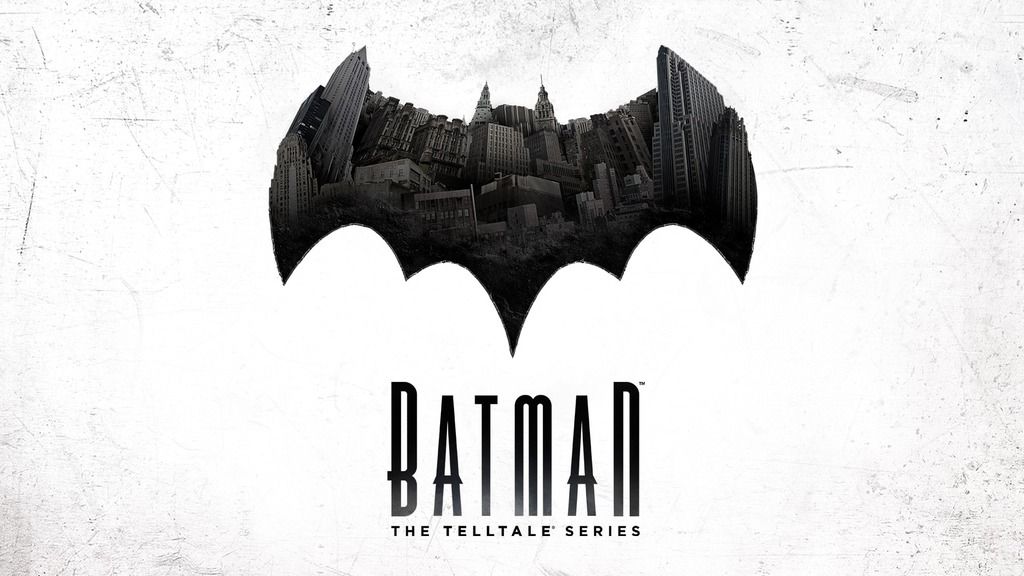 Batman has been and always will be my favourite Superhero. I've been a massive fan of the franchise since I was a kid and it shows no sign of stopping any time soon. Sure I've had my dalliances with Superman but he's too clean cut for me. So when I found out that acclaimed studio Telltale had got hold of the rights to produce a game I was more than a little excited. This wouldn't be your typical open world game we have been used to though. This would be a story driven Batman tale from one of the current masters of story driven games. 
The first episode titled "Realm of Shadows" surprised me by how much time you spend as Bruce Wayne. This is a great move by Telltale because by placing you in Bruce's shoes you will hopefully get to see how differently characters act and react to you if and when you meet them as Batman. It's in these sequences where people will form opinions of you based on your answers to various character and what actions you decide to take. A simple handshake or the refusal of a handshake will have consequences somewhere down the line.

The game starts proper during a robbery at the mayor's office which you as Batman must stop. It's this initial episode that introduces you to the game's Quick Time Event mechanic. If you're familiar with Telltales previous games you will be right at home here. If you're not on-screen prompts appear on screen ranging from simple directional monuments, single button presses or combinations of both. Each successful QTE sees you taking down one of the robbers until the room has been cleared out. That is until Catwoman appears and makes off with a hard drive. This section is part QTE and part question and answer. The action sequences carry a great weight and every punch, kick or weapon that lands feels brutal. During your fight against Catwoman the game cuts between the fight and the consequences of the fight at Wayne Manor. This is your first interaction with Alfred and your initial conversation with him focuses on the events during the robbery that play out as you justify your actions to him and it's a good insight into the father/son relationship they have built up over the years. It's here where you start to mould your personality and make Batman as you see fit.  Hopefully we will get to see a lot more of it in the upcoming episodes.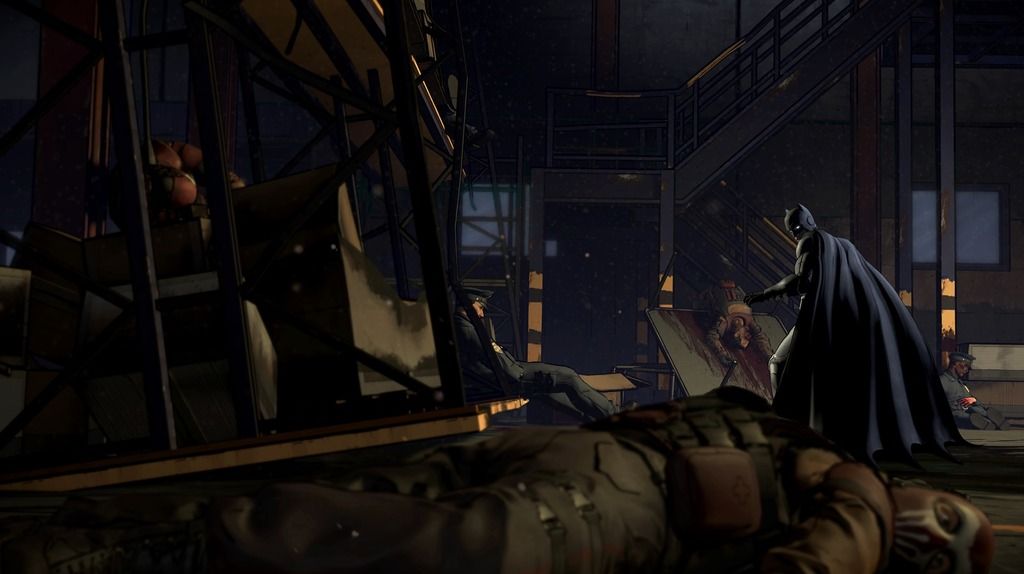 The main focus of this episode however is Bruce's relationship with Harvey Dent and his campaign to become the new mayor of Gotham City. This chapter kicks off at a fundraiser at Wayne Manor where the great and the not so great have gathered and it's you they will turn to as they seek your advice about his candidacy. As you soon find out Harvey has invited notorious mobster Carmine Falcone to your party and he is seeking an audience with you. As soon as he enters the ballroom your other guests gasp and stare in disbelief and how you deal with the situation in front of them will have long reaching repercussions. I have seen Carmine Falcone portrayed in movies, cartoons and videogames for decades but never have I seen him portrayed with such menace before and a lot of that is down to the voice actor Richard McGonagle whose portrayal is faultless. The tension is palpable between Bruce and Carmine and these scenes are a joy to play. Sure it drags on for a fraction too long but I can't wait to see the payoff. I chose the most abrasive answers to all Carmines questions because after all I am Batman. I'm pretty sure that any chance I ever had of a half decent relationship with him has gone.
Don't think this is all just dialogue and combat though because Telltale have included scenes reminiscent from their previous games that give you more freedom to move around and add more interactivity. In these crime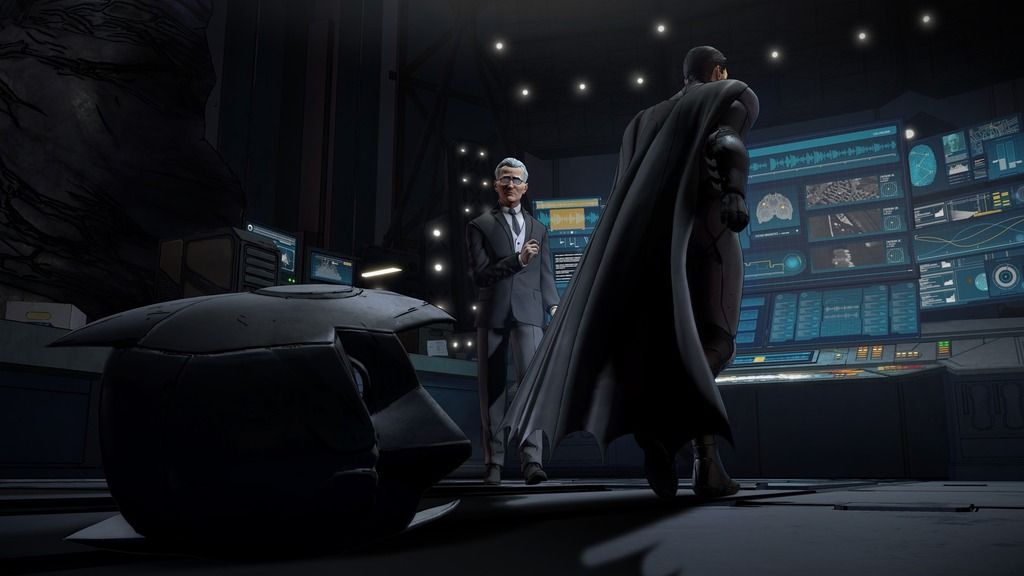 scene sections you will be looking for clues while interacting with what you find to help you work out what has happened. This involves a lot of pointing and clicking which works well but I just wish it was a bit more involving. The interface works well but it's just too simplistic and just involves moving your cursor over specific items and clicking on them to reveal clues. These sections won't task you to much but they help to set a more serious tone. But the stand out moment for me is a section where you plan out a method of taking out every criminals in an area. It's a great buzz watching Batman carry out your plan of attack and it's bone crushingly satisfying. 
Presentation wise the game looks fantastic. The cel-shaded graphic style Telltale are known for has never looked better. It makes sense that this style suits a Batman game considering his comic credentials. There is the odd glitch and stutter but nothing bad enough to affect gameplay. I have already singled out Richard McGonagle but it would be unfair of me to forget about the rest of the voice with Troy Baker as Batman/Bruce Wayne, Laura Bailey voicing Catwoman and Travis Willingham as Harvey Dent. I could go on and on. The writing is outstanding but I wouldn't expect anything less from Telltales.
Batman: The Telltale Series - Realm of Shadows has done a fantastic job of balancing its time between Bruce Wayne and Batman. The gameplay is also varied enough to keep the game interesting from one scene to the next. The great surprise here is playing as Bruce Wayne and being able to mould him into the Bruce Wayne you want in upcoming episodes. The writing is superb and because of this the characters you play and interact with come alive on screen. I cannot wait for Episode 2 to drop and see how my answers/choices affect the game going forward.
 GB
 02/08/2016
Telltale Games
Through Games
Action & Adventure
Batman - The Telltale Series - Episode 1: Realm of Shadows is available now for £5.19
Batman - The Telltale Series - The Complete Season is available now for £24.99
Review copy supplied by Telltale Games.