Details

Category: Xbox One Reviews
Published on Saturday, 01 October 2016 09:09
Written by Ash Cohen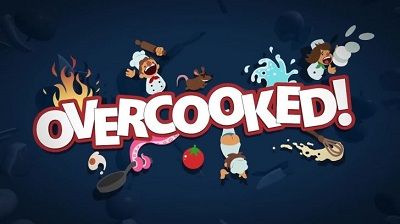 It`s rare that I`ve found myself playing a ID game that I have loved. I was only saying the other night that I think the standard of ID games this year has been pretty poor and disastrous. We`ve had a few top titles that I`ve really enjoyed and some that are part of the Game Preview Program that I`m very much looking forward to seeing more of. Well, over the last 2 weeks, I`ve had the opportunity to have a crack at a new ID title on the market, and that is the title Overcooked. Is it a game that was going to add something to the ID market? Or was it a game that was going to be a burnt game? Well, it`s perhaps, the best co-operative ID game to hit the market this year, and perhaps, in the ID market of Xbox One.
Overcooked was released back in August for the PS4, Xbox One and PC, and is developed by Ghost Town Games, and published by Team 17 studios. The aim of the game is simple. To earn as many stars as you possibly can from a range of locations. You`re going to be given a dish you`re going to need to prepare, and either playing on your own or with a friend, you`re going to need control both chefs and work together to get the ingredients prepared and into the pot before the time runs out. You`re then going to need to make sure you keep an eye and you don't overcook the dish, otherwise a huge fire will engulf throughout your kitchen, so make sure you have your fire extinguisher close to hand just in case all hell breaks loose. You have to keep the dishes coming nice and sweet and quickly and to keep the time going and to get as many out as possible. You`re then graded out of 3 stars at the end of each level, and you work your way through the game, and as the game progresses, the more complex the dishes become. It`s a game that`s going to offer so much fun and co-operative gameplay with your friends. It`s quite different to anything else that is out on the ID market at the moment.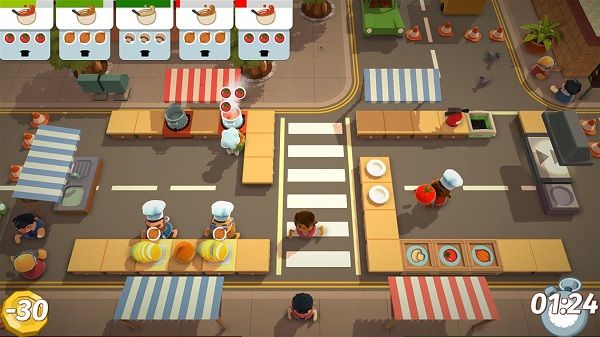 I was very lucky last week to be at EGX 2016, and discuss and have a chat with the Artist and Designer of Overcooked, Phil Duncan, and you can see that interview on AbsoluteGaming soon, but he confirmed that Co-op was the big factor in terms of the game, and it`s certainly apparent throughout. I find it`s a game that has the potential to become slightly tedious on your own, but with a friend or someone else, it becomes a game full of fun and enjoyment. There`s that element of having to work together and strategize in order to make full use of your time and to get those ingredients sorted quickly. No level is ever the same. Environmental changes will come into play, and you`ll find yourself having to work your way around the kitchen again, as the layout will change every so often in a level, mixing it up.
I`ve mentioned that it`s a game that has a drive heavily for co-operative gameplay, and that`s correct. There`s no online element to the game, but locally, you have the option to play and crack your way through the kitchens, preparing those dishes, gaining the maximum stars, and opening up the next level of the game (You need to get the full stars to unlock the next level) but it`s a game that certainly  requires you to go around with someone, or I fear that someone playing on their own will lose frustration and interest quite quickly, as it`s a game that can actually be very challenging on your own, controlling two chefs and having to prepare everything.
It`s not a game that`s going to overly challenge you. It`s a game that working together with your friends, you`re onto a game that`s going to offer you something quite unique and quite enjoyable to play. How difficult it will be will depend on how easy and great you work together.
Overcooked is a game that is one of the top ID games I`ve played on the ID market this year. The co-operative drive and factor within the game is well-received, and it`s a game that I think will do very well in terms of players looking for a game to play with their friends one day. Ghost Town Games have done an excellent job, and I can't wait to see what we see in terms of DLC in the next coming months.
A huge thank you to XCN for supplying us with a review copy of Overcooked.
Game: Overcooked
Developers: Ghost Town Games
Publishers: Team17
Genre: Simulation, Party
Price: £12.79