Details

Category: Xbox One Reviews
Published on Thursday, 27 October 2016 14:42
Written by Ash Cohen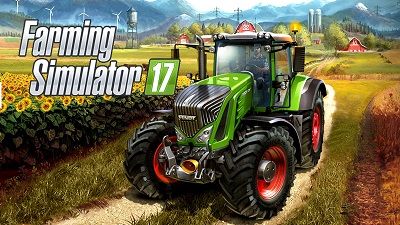 There are so many games that follow the simulator trend that we`ve seen over the years. Some of them have actually been quite enjoyable, and very good, and some of them have been utter tripe, and you wonder why people have actually brought them. We`ve seen a range, City Mall simulator, Goat Simulator, and so many others. Goat Simulator is one that made me laugh. But now we`ve had a new simulator added to the market, and that is one Farming Simulator 17. So, is it a simulator game that offers something different? Or is it one that is at the back of the line of the simulator games? It`s very much the latter unfortunately.
Farming Simulator 17 is the newest addition to the Farming Simulator series, and is developed by Giants Software and published by Focus Home Interactive. The game is based on… you guessed it, farms! You`re a farm owner, and you take control of your own farm, building and developing crops and goods, and selling onto people to make money. You have the option of a few farms to take control of from the start of the game, and you`ll also have the option of what difficulty you`re going to make it. You can either make it very easy where people will buy from you without any negotiation or difficulty, medium which is a compromise, and hard which is where you`ll need to be at your best to get  the best deals possible. Being a complete newbie into the game, I went into the easiest difficulty.
Entering the game, you are given the option to complete the tutorials. If you`ve never played a farming simulator game before, then I`d strongly suggest that you complete it, as it`ll give you the fundamentals of the game in terms of learning the basics, how to grow crops, fertilize them, how to drive a tractor and keep the crops good, and a few other things. They`re not too difficult to understand however and are easily picked up after playing through it a while.
But, it`s a game that is going to get very tedious after a while. There isn't really anything challenging, and doesn't offer you much else in terms of making sure the farm ticks along nicely. You`re able to hire people to help you run the farm, and manage the crops and fertilization stages of the development. But, just like most other simulators, there isn't anything story related in the game, and there isn't something that is going to grip you in. It`s a  simulator, and that`s all there is too it. In short bursts, I think it`s manageable, but it`s certainly not a game that`s going to grip you in for hours and hours.
Perhaps kids may enjoy playing this. I could see a kid being interested and perhaps keeping them entertained for a few hours, but if you`re one of the older generation, I really wouldn't bother. As I`ve mentioned, it`s a game and a franchise that unless you`re interested in it, you just wouldn't pick up.
Now, unless you have any interest in being a farmer, I have no understanding why you`d pick up this game. You just wouldn't. Because that`s all there is too it. Managing and running your own farm. Is it  a little bit different? Yes, but I don't know who on earth would play it. There`s so many other simulators you could have brought and played, but this really isn't one of them. And you must be really, really bored or nothing else to spend your money on, if you`ve picked this up. It isn't even worth picking up for a laugh. Is it a game that makes you want to become a farmer? Absolutely not. It just seems like another cash grabbing game to the series, and one that I`d be very surprised if it did well.
A huge thank you to Koch Media UK for supplying us with a review code for Farming Simulator
Game: Farming Simulator
Developer: Giants Software
Publishers: Focus Home Interactive
Genre: Simulation
Price: £39.99 (From Xbox Store)