Details

Category: Xbox One Reviews
Published on Saturday, 18 June 2016 11:45
Written by Ash Cohen
Over the past year, we have seen loads and loads of different ID games for the Xbox One. When Microsoft announced last year at E3 about the ID program for Xbox, we have seen so many different indie developers jump onto the bandwagon, and get their games and ideas published for the Xbox family, through the ID program or through Microsoft`s other incentive, the Game Preview Program. This time around though, the newest ID game to the family, Turn On, has been released, and is a game that will take you on a journey as an alien, going around to restore power back to the city. Is it a game though that will give you something different and fun?.
Turn on is a game developed by a small team consisting of 4 people, and are based in Russia, and launched back at the turn of the year in 2013. Turn On was announced as part of the ID at Xbox program back at E3 last year, alongside 123 other titles. However, it has in the last few weeks, made its release on Xbox One, and Steam.
So let`s turn our attention to the game itself, Turn On. The city has been plunged into darkness. There`s been an incident at the local power station, and it`s to you to get the city back online. You`ll be taking on the story of an alien throughout the beautiful presented city, and getting power back online. Across 32 levels, you will jump from electricity wire to wire collecting power and restoring power back to the fuse boxes and streetlamps, restoring both light and power to a city suffered with a Blackout. You`ll need to make sure you collect the power and restoring the fuses without falling to the ground, otherwise you`ll suffer a short out on electricity. You are an alien like creature created from Electricity. Throughout the game, there are different scenarios that add to the games elements and not being solely based on just collecting things and reaching objectives. No, for example you will have to guide a young girl back home by providing street lights for her to walk through, power back to a family`s home, and a few others. It adds a different element and feel to the game, as otherwise, I`d fear it`d get rather dull very quickly.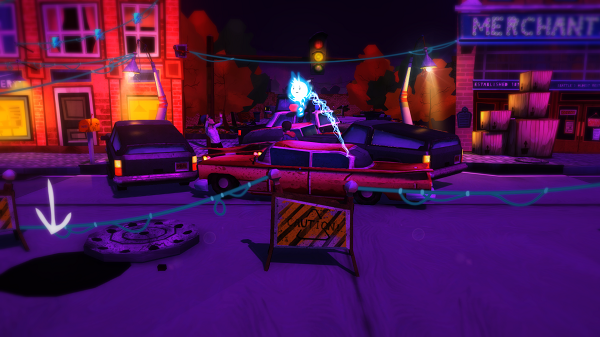 Now, this game isn't something that`s going to grab you in and keep you engaged for ages, as it is something that is very tedious and feels very much the same throughout, and I fear that this could turn people off the game. As much as there are several levels in the game, there are so many of them that are just the same in a different location, and for me doesn't offer something that will keep you engaged throughout. I think you`ll find yourself playing this in short bursts if you`re an older gamer, with that being said however younger kids and children will love this sort of game.
There is a soundtrack within the game that beautifully underlines it, as you play through each level. Later in the game you`ll find things a bit different, which I adore where Brainy Studio have tried to mix things up a bit by adding a more complex level or progression stock-point in that you have to complete a more challenging task to succeed, but in areas it feels a bit similar to another game I have played recently where they have tried to over-complicate it. A level I got to I was struggling to complete, as I had no direction of where to go, and I had picked up every power orb and turned everything on that I could see. Don't get me wrong I like them adding this type of thing in and adding some challenge to parts of the game, but with no direction of what to do, you could find some will easily give up and turn the game off.
Now, with any game, you`re always going to get glitches and bugs and things that will be patched no doubt over time, but I don't think I`ve seen any other ID games have the same sort of issues that this one has had. There were times where it`d drop rates massively, my character was going off its own accord, there were several things that were patchy and buggy throughout the game. As I have said, I`ve no doubt that it`ll be patched and fixed in a future update, but although not horrentious, the bugs can tend to get on your nerves after a while, so you may want to wait a bit before buying and waiting until it is patched up a bit.
On the whole, I think depending on the audience that is playing it, will find the game fun. Younger kids and children will enjoy the game as they look to restore all power back to the city, but some older gamers like myself will find the game not so fun, and a tedious work-out that provides over challenges, buggy and patchy spots.
A huge thank you to XCN for supplying us with a Review Copy.