Details

Category: Xbox One Reviews
Published on Thursday, 06 October 2016 20:09
Written by Mike Jenkins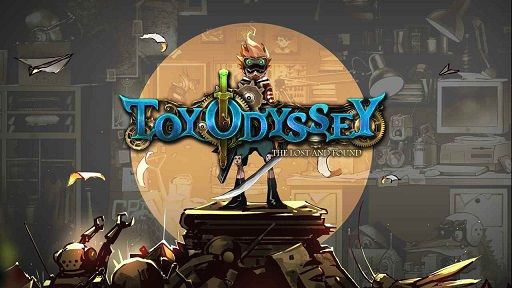 Review written by KrustyManMeat
Do you remember watching Toy Story for the first time and thinking to yourself wouldn't it be amazing if the toys in your bedroom would spring to life. Toy Odyssey is exactly that. It's an action platformer with procedurally generated levels. So let's find out what really happens when everyone is asleep.

When a young family move into a new house everything seems idyllic even though the house gives off a horror vibe and would be best suited for a family of mass murderers. However everything seems to go well for them and they soon settle into their new home. The toy room holds a special place in the boy's heart and he soon falls in love with a steampunk prince toy which he declares to be his defender against all things scary while he sleeps.

The toy prince soon becomes the fine line between life and death for the family because every night evil toys invade the house. Every night you must defend the family from this evil invasion. Enemies come in all shapes and sizes and booby traps are everywhere. The procedurally generated levels help to keep the layout interesting by changing from one play to the next. You will also need to collect different material and objects along the way to help you upgrade.

On paper this all seems very simple and nothing you haven't seen before. You can jump which you can later upgrade to double jump. There is also a nice dodge move which allows you to choose between a melee attack and a remote attack that quickly drains your characters stamina. The game is tough and I mean bloody tough. This isn't a walk in the park by anyone's standards. Enemies are tough and plentiful and if you get swamped by them it's going to be game over term quickly. This was the case with my first few goes. I'd manage to get through a few rooms and then it would be game over. But don't despair because if you persevere there is a tight little game hidden under the hard as nails gameplay.
Each level contains bolts which you must collect. There bolts are what you need to spend in order to upgrade your character. Various power ups soon become available and it's this RPG element that brings your character to life. You can increase your health bar but the most exciting aspect is you can use whatever you find to manufacture all kinds of equipment to help you in your fight against evil. You can choose to focus on heavy swords that pack a great deal of damage but are very heavy and slow to use or you can manufacture a smaller blade that does less damage but is much quicker to use.

When you are exploring the house fighting off the evil toys the baby's room is particularly vulnerable to attack. This is where a tower defense element creeps into the game. This part of the game just seems to be tacked on and didn't offer any real level of threat. The enemies are pretty weak and the only fear here is that you might loose the materials you have collected during the previous levels. You must build defense towers and wall's to protect your precious valuables against the marauding hordes of evil toys. It's a clever idea but it's not executed very well.

The procedurally generated levels look nice but for some reason they never seen to come together properly. They seem to be a mish mash of ideas that have just been thrown together. There is a lot going on here though. When you die you start back in Felix's room where you can upgrade yourself or your bases defences before you head out again into a whole new level. I can't quite put my finger on it but for some reason I found myself having that must have another go feeling even when the game became frustratingly tough. 

Toy Odyssey: The Lost and Found is a good all round action platformer with RPG and tower defence elements thrown in. The game wears its heart on its sleeve and I love the idea behind the setting. If you like a good solid platformer you'll find a lot to like here.