Details

Category: Xbox One Reviews
Published on Wednesday, 09 November 2016 19:47
Written by Ash Cohen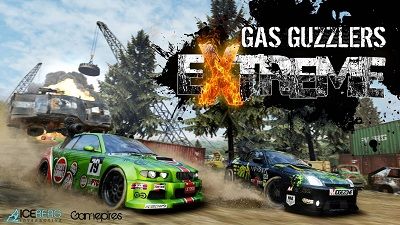 We`re about to enter a white-knuckle thrill ride. No, we`re not at any theme parks. We are about to step into a car, and on the hottest and dangerous road around. Literally. You`re about to witness and underline the full force of white-knuckle racing. Speed is not a limit around these parts of town, and you`re quite frankly something doing wrong if you`re going slow. Make sure you get that gas tank filled up. Because you`re going to need it. You`re going to need to guzzle your opposition and take them out to the death. And you`re going to go to the extreme and back. You`re about to take on the full force of Gas Guzzlers Extreme.
Gas Guzzlers Extreme is a game developed and published by Iceberg Interactive. It is a fast-paced combat car racing game where you must take out your opposition by using a range of weapons and power ups to aid you in winning. You`ll start from the rookie ranks of having a basic car, but the further you go, the further you`ll enhance your knowledge and understand that you`re going to need a big ride to make it in these parts. To keep up with the big boys, you`re going to need that fast-paced white-knuckle ride. Everyone has it. You`re going to need it to. You`re able to buy brand new cars that`ll take you the limit and to the extreme, aswell as upgrading your parts so that you can be in the mix. Offering more than just the standard race, over 12 game modes are going to be on offer for you, and you`re going to need a ride suitable for each one. Being able to build up your ride is not neccesarily going to help you for every mode.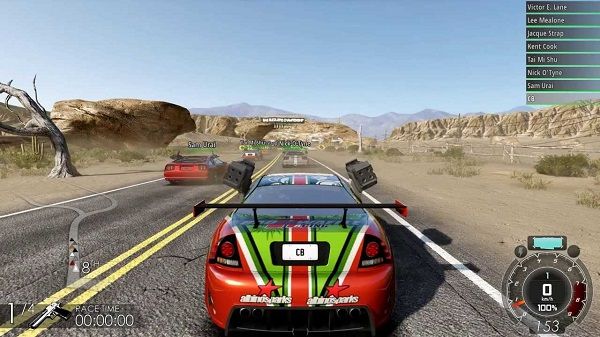 Now, I must be honest, it`s a very good ranged game. It offers you a variety of game modes in different races, which means you`ll must do something else other than just win the race. It adds something extra and unique to each race, and with it being an extreme combat racing game, you can have a good guess what it could entail. You`re going to need to make sure you keep your car upgraded (which there is a wide range of upgradable and customization options, so you are not short of anyway to make your car as extreme as you are) and you`re going to need to make sure you take out the opposition. Different objectives will appear in different races, and you`re going to need to make sure you`re at your best.
I want you to think of the film, Death Race, because I personally can see similarities between the two. Extreme racing, high-intensity combat, and the thrill of a white-knuckle race, are all on offer and things that you`ll easily see throughout the game. It`s actually a little bit different out there, and it`s a good different. I think it`s a game that offers a slightly longetivitiy game, than some others that we`ve seen released that perhaps have followed a same convention in the last few months. The range of game modes you have on offer, and with the fully customization and upgradable features within the game, will drag you into completing every race on offer and making sure you complete each objective that you may have within each race, which for me, is one of the key features. Perhaps doesn't seem like much, but to me, being offered extra objectives than just winning the race attracts me more, as it means I have more to work towards and more to complete and aim for, rather than just holding the number one position.
Gas Guzzlers Extreme is a game that offers good fun and enjoyment. A range of ages will find this enjoyment, and perhaps not one so much for the little kids, it offers a good game that will grip you and appeal to you with longetivitiy and its range of customization. I must admit, I`ve quite enjoyed playing it, and it`s a game, that I`ve no doubt, lots and lots of others will do too.
A huge thank you to Iceberg Interactive for supplying us with a review copy of Gas Guzzlers Extreme
Game: Gas Guzzlers Extreme
Developers: Iceberg Interactive
Publishers: Iceberg Interactive
Genre: Simulation
Price: £19.99 (From Xbox Store)