Details

Category: Xbox 360 Reviews
Published on Tuesday, 08 May 2012 11:56
Written by MarcusJonesy
I was lucky enough to get the chance to review Minecraft – Xbox 360 Version before it is released on the Xbox Live Marketplace on 9th May 2012. Having never played the PC version I was apprehensive after only seeing a few screenshots as it seemed a bit outdated. That being said as I always do I went into the game open-minded and was pleasantly surprised in a few areas. You'll find out where by carrying on reading below.
Basically the game drops your character (in first person view) into an open world with nothing but your hands and the 8-bit scenery surrounding you. Make of that what you will; I was perplexed as to the aim and what on earth I was supposed to do as I started to destroy parts of the floor with my bare hands. Luckily there's a tutorial from the main menu which will guide those new to the Minecraft concept.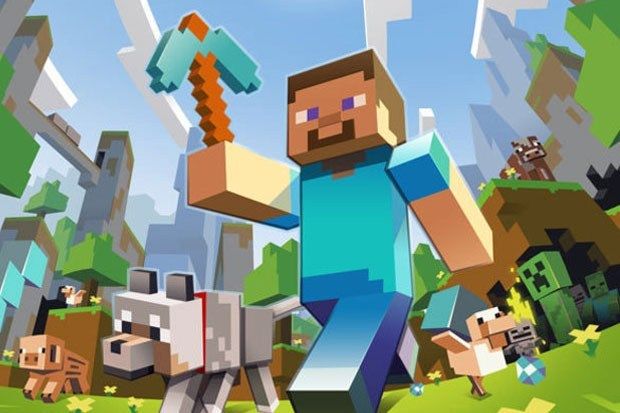 The main goal is to build shelter, armour and weapons for yourself in the day time using everything and anything you find, before the darkness comes. Night fall unleashes various monsters and creepy crawlies in your world so you either hide indoors or go out and fight for your life. You have a health bar which can go down (depending on difficulty it might be from monster attacks or something as simple as drowning) and once it's gone your dead... but you can respawn. There is no real end game, it's all about you creating and moulding the world into however you want it to look with almost an unlimited amount of time and resources.
Throughout the tutorial you learn that crafting items is a key part in your survival, whether it's using wood from trees you chop down or constructing a furnace from stone. The controls are simple enough, onscreen prompts as a reminder to bring up your inventory or to use an equipped item. Having the basic ingredients (wood, stone, glass etc) allows you to create houses with functioning doors, weapons such as an axe or a sword and armour to protect yourself from monsters. One quirky little thing is the animals (pigs and cows to name a few) roaming around are killable so you can use them for food. Even game characters have to eat you know!
Graphically I can only describe it as those classic 8-bit games from yesteryear with single blocks used to make up every object in the game. Although it's vintage, you can't help but think that had this been modernised to crisp 3D graphics I'd probably enjoy it more. Maybe we've been spoilt with HD graphics and this crashes up back down to earth to where gaming began in some ways.
Do you have friends? Well there's a bonus for you guys as your friends can join you in your very own created world and can work together to build a masterpiece. For me this certainly adds a little extra fun, seeing how your ideas mix with others and what comes out of it.
Even though I didn't fall in love with the game it still gripped me and wouldn't let go, meaning those little 20 minute playtimes usually end up being almost two hours long. The fact that it's open-ended means there's literally loads of hours of gameplay to be had for those who enjoy these types of games. For an overall rating I'll give it a 7/10 –nearly great but missing something like quests or objectives to carry out.
Now comes the business part, costing 1600 Microsoft Points I'd say it's a little steep for the quality of game that you get. If you have spare points then sure take a risk as it may turn out to be one of your new favourites or if you're already a fan of the PC version, otherwise it's rather expensive. Look out for it on the Xbox Marketplace as part of the Arcade Next promotion on 9th May.