Details

Category: ROOT
Published on Wednesday, 26 September 2012 15:39
Written by MarcusJonesy
NHL 13 is from the hugely popular EA Sports and is a game based on the very popular American sport, Ice Hockey. NHL 13 will feature 7 different leagues from around the world, these are the NHL, the AHL, the ELH, the DEL, the SEL and the NLA, there are also international teams but none of these are licensed. NHL 13 features a variety of off and online game modes, offline being season mode, playoff mode and be a gm/pro or legend. The online modes range from GM mode, team play and the famous EA Sports Ultimate Team.


GM Connected is GM mode online, you can get a group of your mates, all take one team and do a career with that team, you can buy, sell and trade players with friends or the AI and EA have released an app to go along with this mode so you can keep track of all transfers and results while you are out and about.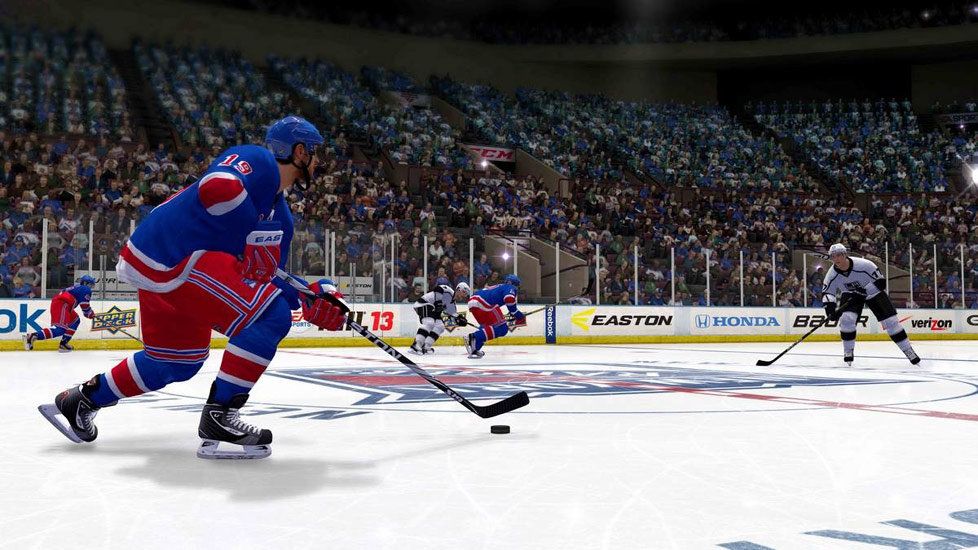 Be A Pro mode allows you to have a pre selected character to choose from and you can choose which team to play for, what position you will play in and the kind of player you will be, you can also change their height and age. After this, you will be given season objectives, these ranging from getting so many assists to getting so many shots at goal. Once in a game, your player will begin a face off and you will play as your character, after a while, your player will start to tire as stamina is non existent in this game and the line will change, causing you to sit on the bench, here you can see what your coach thinks of your performance so far and either watch or sim until you are next on the ice, this process is repeated for the whole mode though, so it can get boring and repetitive at times.

NHL Ultimate Team is a familiar site to anyone who has played an EA Sports title from the last few years, it is the same addictive concept of creating your ultimate team while making sure all the chemistry is there as well. For those who have the EA Season Ticket, you get 24 gold packs, one a week for 24 weeks, to help create your ultimate team, there is a card which can turn your chemistry line from red to green, it is called a team changer and it literally changes the team that player, plays for, helping your chemistry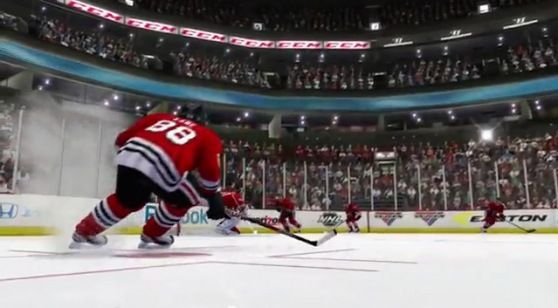 The offline modes all have the same layout, you can choose which teams take part out of the 7 leagues and use any of the 7 leagues format, you can also decide what roster to have or mix it up and have a fantasy draft which comes down to luck as to where you are placed in the draft. This is used on the season, playoff and tournament mode.

For those who have never touched NHL before, there is a tutorial at the beginning of the game to show you the basics but afterwards, I do recommend looking at the control as in my opinion, it is a weird layout, easy to remember once learned though. Scoring goals in this game also comes down mainly to luck as most of the goals I have scored or conceded have been through pure luck, there are some skill goals, where you have easily beaten the keeper but it is the rebound goals and lucky deflections that do happen in a real game but can be pretty annoying.


Speaking of the real game, the graphics in this are very good, the players look like their pictures, sticks can break and are left on the ice until a playoff happens, same with helmets, these can be knocked off and left until the next playoff happens, also when the ice wears away just like real ice, you can see marks in the ice if your player makes a sharp turn or stops suddenly.

Achievement wise, these are spread out across the game modes and also some are unlocked through game play. As for a time scale, you cannot really place one on a game like this as it is one of those games, you could pick up, play a few matches and put down or have a 4 hour session on it.

Overall, I would give NHL a 9/10, it is a very good game and there is not much wrong I can fault with it, a few player glitches here and there and no decent camera angles are just only a few things that could be fixed but if you are looking for a new sport to get into and play, NHL 13 would easily be a step in the right direction