Details

Category: Xbox One Reviews
Published on Friday, 20 November 2015 18:41
Written by DanLH16
Ever changing technology has allowed gaming to move forward in many ways, VR is now a reality with hardware coming to homes across the world in the coming years but rarely have individual games taken on the mantle of the ever changing world, utilising this and making it a focal point and core to the landscape within the game.  Except one perhaps.  Call of Duty has consistently over the past iterations, continued to use modern technology as well as more futuristic tools when building the next blockbuster from the ground up.  Whilst many have questioned the move by Treyarch and Sledgehammer games to move away from the traditional Call of Duty model a few years back, they have both consistently stayed on track with new age.
It's safe to say this has caused huge debates within gaming ranks over how Call of Duty has advanced in the past few years, it continues to sell big every year due to its large unwavering support of its hard-core fans but critics have grown in numbers.  This is something that does not surprise me and nor should it you, everyone goes after the biggest cheese in the room after all, but Treyarchs decision to up the ante with its latest release, Black Ops 3, pushes the new model of Call of Duty even further. 
Keen to show this throughout, Black Ops 3 pushes the futuristic look more than any of its predecessors.  It has become almost scientific in its methods, calculated and cold, more so than others before it.  New developments show off fantastic new toys which give you more options than ever in how to fight, but it doesn't change the linear motion that Call of Duty has always had.  I t has always been this is the objective, very A to B, nothing off the beaten path, with Black Ops 3, this doesn't change, Treyarch have simply given you a multitude of options in order to reach the main goal.  It feels like a trick has been missed, never before have I played a Call of Duty game with so many options, but without any real player decision about the final outcome, playing it once seems enough.
Treyarch seems at times in its campaign to flex its muscles rather than focus on ground breaking story, the old plot still remains, and the main difference is that you can now tackle this with your own squad of pals.  The Co-Op campaign adds another feature to a game filled with treasures, which is clearly aimed at keeping the disc in your tray, but the Co-Op campaign lacks real quality.  There is not much point to it at all, the players don't particularly interact with each other and the choices within the game are lacking.  You feel more like a hired gun alongside your friend rather than his squad mate.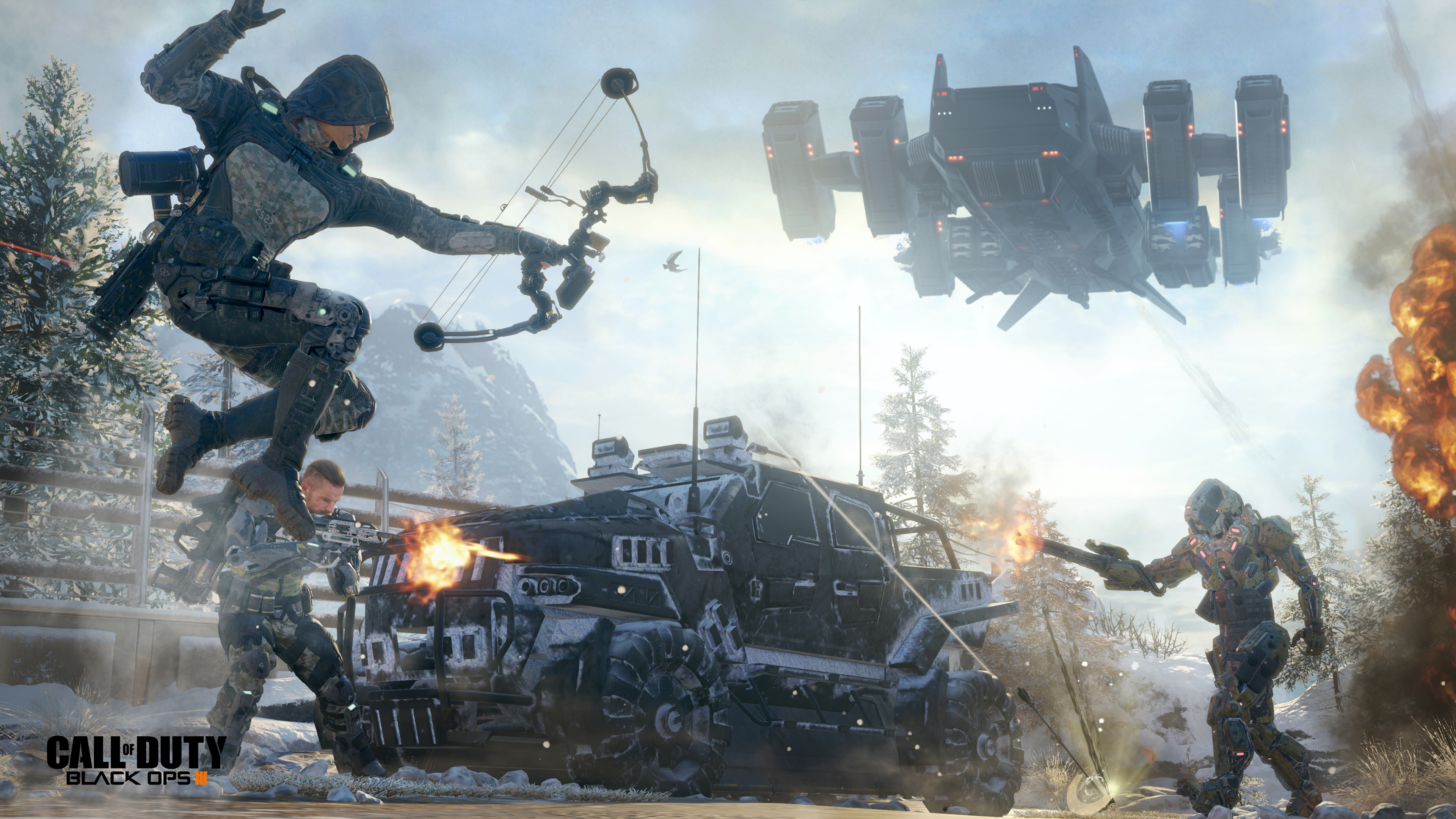 The true money maker of this franchise has and always will be its multiplayer.  CoD 4's multiplayer was so revolutionary that it has made the franchise what it is today, and Black Ops 3 does much of the same even if we are all these years on.  The biggest change this year is the specialities which Treyarch have added in order to make this year's version something different.   When first entering multiplayer, players are asked to pick one of the several characters available, all coming with special abilities and pre-determined pre-set classes, all unique to each other.  Players are not confined to this throughout their playing life, later in the game comes the chance to purchase the rest of the specialties as well as fine tuning them for the different scenarios you face out in the battlefield.
I think its fair to say that Treyarch have taken risks across the board with Black Ops 3, with many new additions and different styles so far it seems like they are offering players a lot of options but not much depth.  Multiplayer succumbs to this fact as well, different ways to play the same old game modes.  There is nothing new here to be precise that will grab you and keep you playing on and on.  I don't blame Treyarch at all for not wanting to turf up its cash cow and make it into something new because that would be a terrible idea, but you would expect some sort of advancement considering we are this far down the line with the franchise.
Aside from the obvious changes in to the character customisation multiplayer remains pretty similar to past iterations when it comes to the modes but I will talk about the different environments.  These are well thought out and well designed, with some levels offering some fantastic details whilst not detracting from the overall feel and workings of the maps, which offer some excellent fire fights and do make you think about every move.  However some maps, such as the Aquarium, are too detailed to the point where the fight is spoiled.  I found myself marvelling at the detail on show but after a few games you realise that map is so expansive that it becomes a chore to find a fight, this is symbolic of too many maps in Black Ops 3, which simply doesn't present a consistent platter of quality and presentation that the player needs to get the most out of the game.
Previous versions of Black Ops have been criticized for its play style, especially the movement from Modern Warfare to Black Ops, which was regarding as a rather big leap of faith.  Gameplay is very much the same once again as it was with Black Ops 2 but the game feels a lot more refined, clever as well as achieving a general sense of a challenge.  Graphically it was one of the more detailed and well-presented games in the franchise's history, with excellent sound bites.  Unfortunately, character dialogue in the campaign suffers here, but Zombies excels.
I have consistently presented Black Ops 3 as pushing the boundaries and taking risks in this year's edition, something that I admire as a former core player who had simply fallen out of love with CoD.  But Zombies has that aura surrounding it, a real challenge perhaps?  Much like the blueprint for Black Ops 3 the scenery and environment takes centre stage here, set in the 1930s.  Four down on their luck characters find themselves in even more unfortunate circumstances.  Throw in some great voice acting from the ever fantastic Goldbloom and you have a recipe for success.  Zombies never changes and continues to be an enjoyable challenge in Call of Duty, same goes for Black Ops 3, some times its just best not to fix what is not broken.
I haven't always admired Treyarch for previous editions of Call of Duty, often accusing them of sticking to the winning path, simply re-releasing older versions with new skins, maps and a different campaign.  They never used to push the boundaries, well not like Black Ops 3 anyway.  Some I found myself excited and interested playing Black Ops 3, Treyarch have done a great job across the board.  Arguably this is the best Call of Duty game in terms of how to play, but the sheer lack of depth in key areas such as the campaign, holds back the Black Ops from good to great.  Having seen what is out on the market right now, Call of Duty is probably number 1, but only by a whisker.  That being said, I genuinely enjoyed playing Call of Duty for the first time in years, which is what it is all about at the end of the game.