Details

Category: Xbox One Reviews
Published on Monday, 22 August 2016 14:07
Written by Mike Jenkins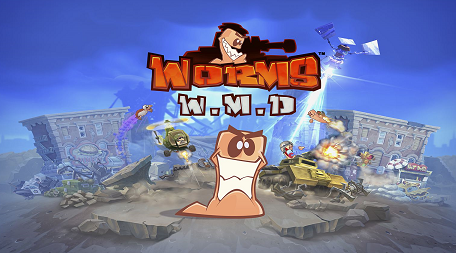 It has been quite literally years and years since I last played a Worms game.  This isn't due to me not liking the games, in fact I remember quite enjoying them in my younger years.  There isn't really a reason why I've not played one, it's probably me just wanting to put money towards something I felt I'd get more overall bang for my buck, rather than a game that would entertain in short bursts.  Anyway, I'm going off on a bit of a tangent.  You're not here to hear me go on about my gaming choices, you're here to see whether Worms WMD is worth your money.  So let's get stuck in.
Firstly, I will say that I may be mentioning things that are now the 'norm' for Worms games, due to the above, but I'm sure they will be worth talking about anyway.  In fact I didn't realised quite how many of this franchise had been released.  But the first thing I felt from booting up, was how well the game has transitioned to a newer era of gaming, but still kept the ethos and feel of the games I played all those years ago.  And credit needs to be given to Team 17 for being able to keep a franchise going for so long, introduce new things to keep it interesting, and stay true to what made it successful in the first place.
If you were to look at this in passing, and you were aware of Worms, you'd know it was a Worms game.  While the visuals have been brought up to date, bright colourful and cartoony, with some fantastic environments,  it is clear from the camera angle, the setup of the levels and those little pink wiggly things that this is a Worms game through and through. The array of weaponry, the way the land exploded in the circular fashion I remember from all those years ago, all those things are still here, as is the famous Worms humour.  It's such a quirky style, from the little comments they say to each other, different animations, or the sheep bombs (yes they are still here) it's a unique presentation that is difficult to explain to anyone who isn't already aware of it, unless you put them in front of the screen to experience it for themselves.  The customisation options epitomise this for me, there are loads of choices, from head gear to voices.  My angry Scottish Worm with a plunger on his head, and a totem pole for a gravestone made me chuckle, as did plenty of the other combinations.
This is a turn based game, with each worm getting a set amount of time to move around and make their attack.  Don't let the visual fool you, as the game progresses there is need to strategy here.  Where to place your worms so they take limited damage, angling weapon shots to take out the enemies, when to use the tank….YES, there are tanks this time around.  Also new are Mech's and Helicopters along with the ability to craft weapons on the battlefield.  These are all welcome addition to what is already a well fleshed out weapon list.
In terms of game modes, there is plenty here to do.  With regards to solo play, there are almost 50 levels across the Campaign, Challenge and Bonus modes, and there are on top of the Tutorial levels.  All of these leave much room for replayability aswell, whether you want to try a different approach with different weapons.  Or you might want to beat the level quicker and more efficiently to climb the online leaderboards.  Knowing how far you are away from the top of the pile will likely get you thinking how you can get it better.  There is also multiplayer here, both online and local, for when you want to test your skills against others.  There is both unranked and ranked online playlists. 
Worms WMD for me is a success.  Whether this will be the same for someone who has played a lot more of these games than me I don't know.  It may not compare favourably to others in recent years, but for a gamer coming back to the franchise after years it is a welcome progression from what I remember playing.  I've enjoyed my time with Worms WMD, it has brought a smile to my face with its light hearted fun, and it's brought out a weird gaming determination to better myself and climb leader boards.  I would certainly recommend for fans of the franchise, and newcomers.  And would say that for anyone wanting to get back into it, this is a perfect time.