Details

Category: Xbox One Reviews
Published on Tuesday, 18 April 2017 07:37
Written by KrustyManMeat
Magic people, voodoo people 
When Microsoft launched the original Xbox they knew they had a fight on their hands to try and capture the hearts and minds of gamers the world over. Halo was the breakout title but they knew they needed more than that to survive. Gaming mascots come in all shapes and sizes and with the failed platformer Blinx firmly behind them they turned to Beep Industries and their upcoming platformer Voodoo Vince. Beep Industries first title for the Xbox had a great weight of expectation on its shoulders and I remember there being quite a big fuss being made about it. Would Voodoo Vince be the first breakout platforming mascot on Microsoft's fledgling console?
Voodoo Vince Remastered has been given the makeover treatment and now boasts that it runs at 1080p at 60fps with a 16:9 aspect ratio with updated rendering and visual effects. Also new for the remaster is Xbox Live integration and achievements, as well as rumble support. You can select soundtrack updates and remixes by the game's original composer, Steve Kirk, and Xbox Live integration and achievements come with Xbox Play Anywhere support. This is all well and good but it means nothing if the game has been stripped of its charm and challenging gameplay. You are Voodoo Vince a voodoo doll who has shacked up in a voodoo shop in New Orleans. One day you are brought to life just as your Master Charmaine is kidnapped by Kosmo the Inscrutable. Unfortunately during the kidnapping Kosmo's henchmen let loose a large amount of zombie dust which has transformed the world around you into spawning all kinds of monsters and ghouls. And suddenly you find yourself thrust into an adventure which will take you through the streets of New Orleans and the bayous of Louisiana in your quest to save her but the only way to do this is to hurt yourself along the way. 
The gameplay is exactly how I remember it and if you've ever played a platformer in your life you'll get exactly what you will need to scratch that platforming itch here. There are the usual array of moves from a single jump, double jump, a spin kick, a headbutt and a special move that becomes more useful the further you get into the game. The ability to slow down how fast you fall is a God send. I don't remember using it that much when I originally played Voodoo Vince so maybe that says more about my diminishing platforming skills then the actual game. Moving platforms appear more frequently as the game progresses and this ability has saved my life on numerous occasions. Occasionally you get help through a telepathic link from your owner Charmaine. This is usually a pointer in the right direction to nudge you along the way when a specific objective has to be completed to move the story forward. The main goal to rescue your owner is fairly standard but there are a few other objectives to complete if you decide to take break from the main story by collecting all thirty four Voodoo powers throughout the levels. These powers vary quite dramatically in their execution but essentially they all amount to killing enemies but in different comical way. In order to use these powers you must fill up your Skull icon by collecting beads that defeated enemies drop. When it's full you can unleash any Voodoo power you have collected to destroy any enemy that is near you.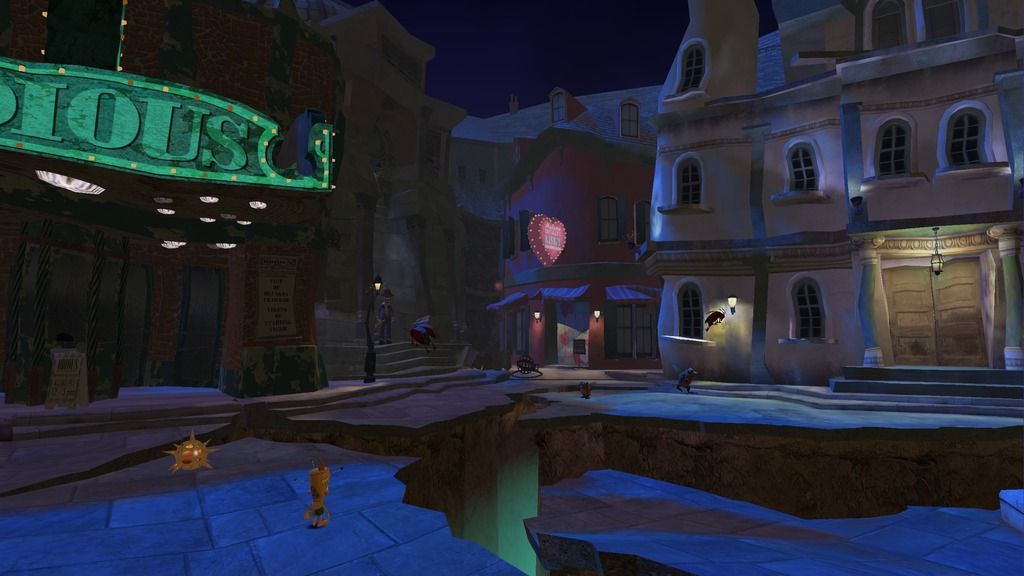 Even though each power amounts to the same thing their execution still makes me laugh even now while writing this review. There is a huge variety of ways to off your enemies and every one is worth collecting. Some of my favourites are the Lawn Mower power which sees Vince shredded up by a lawn mower which has the same effect on any enemies that are nearby. The Laxative power makes Vince down a bottle of laxative which results in a rumbling down below. A outside toilet drops over him and bodily movements can be heard. This affects all surrounding enemies who die from extreme flatulence and diarrhea. Shark Attack let's our Vince bathe in a bathtub surrounded by sharks who eventually pull him under to a watery grave and any enemy unlucky enough to be around get ripped to shreds. These are just a few examples and I would love to explore the minds of the developers to find out where their ideas came from. As you can see from all this being a Voodoo doll isn't all fun and magic. Suicide is an important and every present fact of life for Vince because without it he wouldn't be able to progress without hurting or killing himself so he am inflict the same pain on his enemies After all isn't that what Voodoo dolls are for?
Platforming isn't the only thing you'll be doing here though because thankfully Beep Industries had the sense to include a few different ways of getting through several levels. One level let's you ride a ride while another level will let you pilot a plane through oncoming hazards. During these levels players will control Vince while he is piloting an airplane, a swamp boat, a submarine, a bumper car, and other vehicles. Boss battles are a platform games bread and butter and I'm not sure if it's just me but I remember the boss battles in Voodoo Vince being a lot harder than they are now but maybe that's just my mind playing tricks on me. Everything you face off against has a specific object that you must interact with to cause damage to yourself and in turn the boss your fighting against. There are a nice variety of different bosses to fight against ranging from a T-Rex to a mental doll and even a bigger version of yourself.
Visually the game looks gorgeous. I loved the aesthetic of the original but now everything is running in 1080p and 60fps with a 16:9 aspect ratio and updated rendering and visual effects everything really pops out at you. The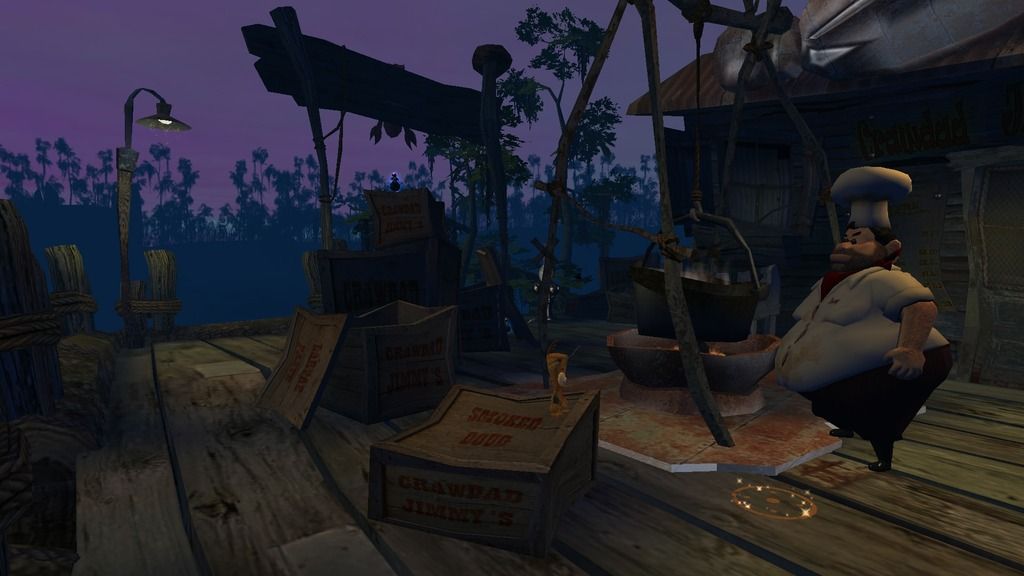 design behind each level is unique and it still holds its own against much more modern games that have been built from the ground up. Each character looks amazing and the effects when using your powers really do have to be seen not only for their hilarity but their new crisp look. The music in Voodoo Vince is brilliant and it has received a nice update in the remastered edition. You can select soundtrack updates and remixes by the game's original composer, Steve Kirk or listen to the original soundtrack. The soundtrack fits the game perfectly. The voice acting also deserves some praise. You can hear the fun that has been put into each performance as each line is delivered with a cheeky wink and a smile and that's it all down to how well the script is written. 
Sitting down to play Voodoo Vince again after all these years was a great experience. The great writing and dialogue still shine through and it looks and sends better than ever. If I had to grumble it would be that nothing of any real substance has been added. Extra levels would have been a great addition because this isn't the longest game you will ever play. If you like your platformers then Voodoo Vince will be exactly what the Voodoo Doctor ordered.
Developer: Beep Games
Publisher: Beep Games
Website: Voodoo Vince: Remastered
Twitter: @beepgames / @RealVoodooVince
Review code supplied by Beep Games.