Details

Category: Xbox One Reviews
Published on Tuesday, 11 April 2017 08:23
Written by KrustyManMeat
When Life Gives You Bricks, Build Something.
Cast your mind back to 2013 just for a minute. It was a time when the Wii U was suppose to be capturing the hearts of gamers everywhere. Sadly it didn't but it did have one exclusive game that I have always been jealous of. Fast forward to 2017 and that exclusive has made the leap to the the Xbox One. LEGO City Undercover has undergone a bit of a revamp for its coming out party but is it enough to warrant a purchase?
LEGO City Undercover has always been billed as GTA for the family and you only have to play for an hour to see why that is. It's full to the brim with movie and TV references that as usual us adults will get even if the kids don't and that's always been the beauty of LEGO games for me. There is always something slyly tucked away for us more mature gamers to find and enjoy. Not that you have to look to hard because it years it's heart on its sleeve and everything is pretty much front and centre.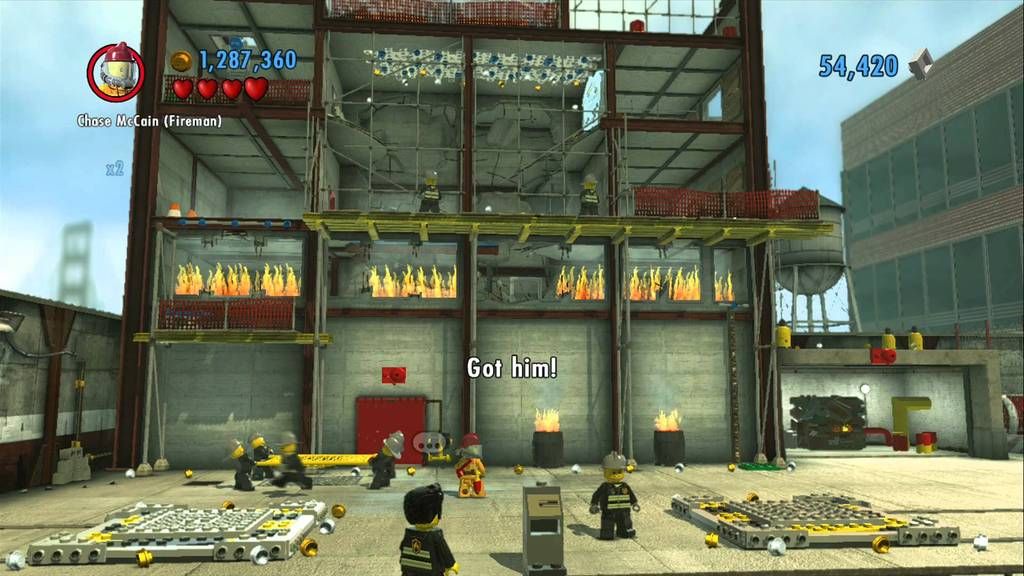 You are John McClane, sorry Chase McCain a seemingly indestructible, rule breaking, cop tasked by Mayor Gleeson to bring down the criminal underbelly that has been plaguing the city. Rex Fury is the criminal mastermind who is hell bent on bringing LEGO City to its knees and only you can stop him. The cast of players is huge but more importantly you'll fall for each and everyone one of them. Each character has their own personality traits and there are more than a few that you will recognise straight from movies and TV. Your sidekick is a buffoon straight from any buddy cop movie you care to mention or the hard nosed police captain who's short fuse is softened only by his heart of gold. Sure you've seen these character in games for many years but as always the writing is superb and it's side splittingly funny enough to keep you moving forward. 
If you've played any of the LEGO games before you know what you're getting yourself into here. It's pretty much the same from one game to the next but the emphasis here revolves around being undercover. You'll spend the majority of your time pretending to be a criminal which brings it's own set of challenges. You will have access to a large variety of different disguises to help you pull your undercover operations off and each disguise comes with its own abilities. When you're disguised as a robber you have a crowbar which you use to crack open doors and locks, the farmer can grow plants which he can then use to allow to previously unreachable areas and as an astronaut you can make use of teleport pads and a jetpack. These disguises do add a lot of variety to the gameplay. 
As open world games go it's functional but nothing you won't have seen before. This won't be the largest map you will have ever played in but anything bigger would have been daunting for its target audience. Exploring every nook and cranny will still take you a long time though plus you will also need to be playing as specific characters to unlock specified objects and don't forget that you also have the main storyline to keep you occupied. There are no side quests for you to embark on but there are a huge amount of secrets for you to unlock. There are hundreds of characters and vehicles for you to unlock as well. The stand out feature is the new co-op mode that has been built from the ground up for this remastered edition. Sadly though this is local co-op only yet again. Everything runs smoothly as you'd expect and you can just jump in and out of the game as you please. Once in game you're not tied together either so you can both head off in different directions and do as you please. If you want to find your way back to your partner each player's position is easily identified on the game's mini-map.

One major problem with LEGO Undercover is the loading times. They are abysmal. It's been a long time since I have had to sit and wait for levels to load. It's extremely frustrating and there is nothing worse than wanting to get on with a game but being held up by something that shouldn't take a huge amount of time. I was really hoping that LEGO City Undercover would blow me away but it didn't. Even now the LEGO games refuse to give us the online co-op we deserve and the loading times just chip away at you. LEGO City Undercover cards all the hallmarks of an interesting foundation that needs to be explored and expanded upon in future games. The same old gameplay we have seen over and over needs to be overhauled before it becomes even more stale. It's not all bad though and as usual I enjoyed finding all the secrets and collectibles hidden around the city and in not even a quarter of the way through finding everything. A genuinely amusing script also helps to elevate the game from being just an also-ran. If you have enjoyed LEGO games before you know what you're letting yourself in for and as always can't help but recommend this new entry as well.
Developer: TT Games
Publisher: Warner Bros. Interactive
Website: LEGO CITY Undercover
Twitter:  / 
Review code supplied by ThinkJam