Details

Category: Xbox One Reviews
Published on Wednesday, 05 April 2017 10:04
Written by KrustyManMeat
"We all make choices in life, but in the end our choices make us." 
Thimbleweed Park is a game I've been chomping at the bit to get my hands on ever since it was announced. Developed by gaming stalwarts Ron Gilbert and Gary Winnick this Kickstarter funded point-and-click adventure has a huge weight of expectation on its shoulders. Will this turn out to be a great homage to the games of the past or just another vanity project that should have stayed on the drawing board.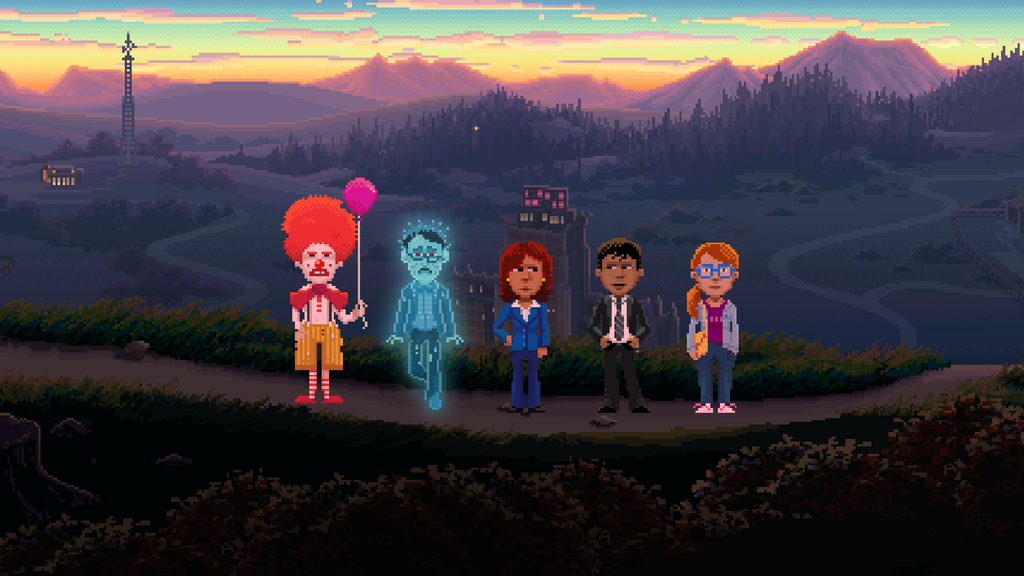 I've always considered myself to have been lucky enough to have grown up around gaming. From the moment my Dad brought home a ZX81 I was hooked. As rudimentary as those gaming experiences were it was enough for me. As I have grown gaming has grown with me but when asked the question about my favourite time in gaming I always point towards the Commodore 64 and the Amiga 1200. Both machines made me sit up and take notice and truly cemented my love of gaming from a simple pastime into something more akin to an addiction. An awful lot has changed since then but one thing that will never change is my love for a great point-and-click adventure. I must have played all the greats at some point in my life from Maniac Mansion, The Secret of Monkey Island, Sam & Max, Indiana Jones and the Fate of Atlantis, Day of the Tentacle, Grim Fandango and Full Throttle. These games still exist today in a different guise thanks in part to games like The Walking Dead, Life is Strange, Oxenfree and Gone Home. But the one thing this generation of gamers is missing is the genius, comical touch of Ron Gilbert and Gary Winnick. 
From the moment I started playing Thimbleweed Park everything just screamed nostalgia. The graphics are the same fantastic pixel art style that I fell in love with all those years ago and it's soundtrack evokes those synth tracks that get stuck in your brain and never leave. Apart from the fact that I'm sat in my front room playing this on a big arse TV and on a console instead of a commodore or PC I might just as well be back in the eighties/ninties sitting inches away from my fourteen inch portable TV in my bedroom while the sun blazes away on a hot sunny afternoon but enough of my rambling. Thimbleweed Park is a murder mystery that centres on a body that has been found in Thimbleweed. There is a very brief tutorial which is basically a set of different screens that explain the verb system and that's as close to hand holding that this game gets.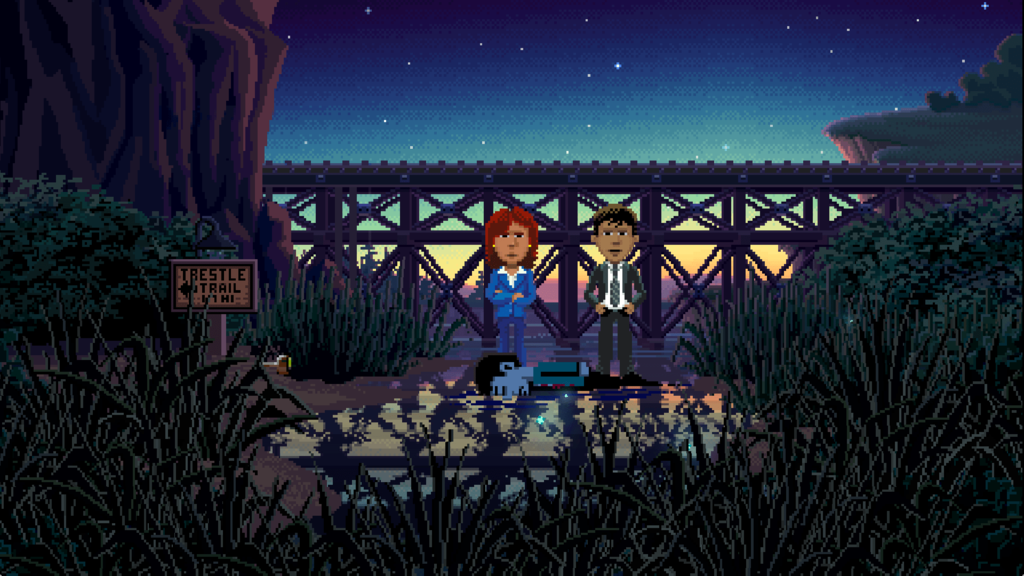 Two FBI agents who arrive at the scene to help solve this mystery are just the first characters you encounter and control. As the game progresses you will eventually get to control a clown, an aspiring game developer and a ghost as well. This is classic point-and-click territory and nothing here reveals itself. You will have to rack your brains to come up with the solution and if that terrifies you Thimbleweed Park will not be for you. There were times during the game when I thought I'd never solve a particular puzzle but like I had to do when I was a kid I stepped away for a while and let my brain relax. I always managed to solve the puzzles eventually even though some of them are quite obscure. But that's the beauty of a game like this. This is suppose to be a step back in time and it not only looks and sounds like it should and it also plays like it should which depending on your patience threshold is either a good or a bad thing. There is a casual mode available which removes a number of puzzles that you would normally need to complete in order to move forward but what's the point of that. You would be missing out on so much content that it's scandalous. Just play on hard because you'll thank me in the end.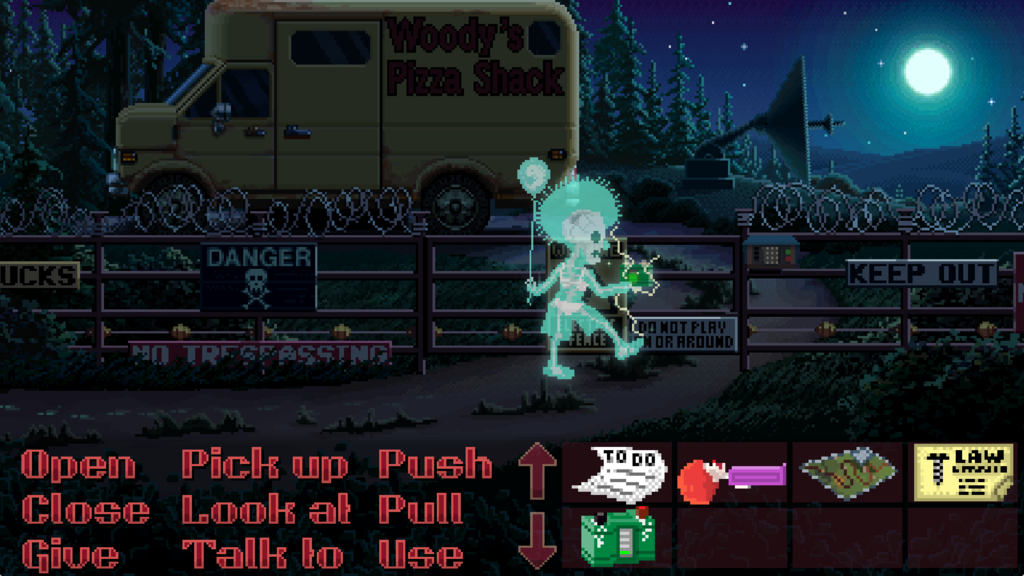 Thimbleweed Park's story is broken up into chapters and after each chapter there is a little something special that happens but I'll let you find that out for yourself. As you would expect from a game by Ron Gilbert and Gary Winnick there is plenty of humour. The dialogue will have you in stitches and there are references to Lucas Arts games absolutely everywhere and a few barbs thrown at the gaming industry for good measure. If that's not enough for you how about finding readable books about video games within the game that you can actually pick up and read. The atmosphere is palpable and it really pushes you into solving the mystery and the superb opening sequence is testament to that fact. It's an old gamers slice of heaven and I'm loving every minute of it.
I always play my games with the subtitles switched on and it's no different here. But it's not just so I didn't miss out on an important plot thread it's also because I didn't want to miss out on any of the game's many jokes. The voice acting here is superb and in all honesty you really don't need the subtitles on but old habits die hard. Each and every character you meet is unique with each new character seemingly popping out of the screen and bristling with life. Thankfully your FBI agents have notepads which keep track of everything you have to do so you don't get to confused.

I must confess that I haven't finished Thimbleweed Park yet and that's only due to time constraints I will keep going back until I have finished it though because it's like a love letter to my childhood. It's chock full of all the charm, comedy and bizarre puzzles that I grew up on. I highly recommend giving it a spin even if point-and-click games aren't something you would usually go for.
Developer: Terrible Toybox
Publisher: Terrible Toybox
Website: Thimbleweed Park
Twitter: 
Review code supplied by Emily Morganti PR Consultant on behalf of Terrible Toybox.