Details

Category: Xbox One News
Published on Saturday, 24 September 2016 22:27
Written by Ash Cohen
It`s Saturday 24th September, and I`ve started to write this at 10.30pm. What a day, and what a time we have had at EGX this week. Today, we`ve been back to the NEC for Day 3 and what would be our final day of coverage at EGX 2016. We`ve had some cracking trials over the last few days, gotten to try some thrilling titles, and get to talk to those that make what we play every day. But all fun things and experiences do have to come to an end, even if they are only for a year. So, Day 3. AbsoluteGaming were there, so what did we get up to?
Upon going straight into the halls and queuing for entry (Which Saturday and Sunday tend to be the heaviest and busiest in terms of queues and numbers, and it certainly was) we finally got in at just after 10am. After picking up a free can of Tornado Energy drink, we headed off to a game that I`d heard good things about and having played only a slightly portion of the first one, I was about to try something completely new. I was about to try Dishonored 2, by Bethesda. Dishonored 2 is a stealth and action-adventure game coming out for current-gen consoles in November. Now, for a new player who hasn't played dishonored for ages, I`ll be honest in that I struggled to get into the game portion that you got to play (It was a mission about 4 hours in, you were having to execute someone in any way possible) but it`s a game that over time, I could see myself getting into and playing throughout. Of course, fans of the dishonored games it`s a no brainer, but it`s a game that I could already tell was going to be one that would need some grinding out. But Dishonored 2 has had a few new features added into this time around, including the inclusion of a new character named Emily, who is heavily based on a stealth approach. You have the option of whether to play as either Emily, or whether to stick to the roots of Corvo from the first game. But it`s a game that is eagerly awaited in anticipation, and a game that we`ll definitely be keeping an eye on. You also got a free t-shirt at the end of your time in the Dishonored 2 stand. Pretty sweet.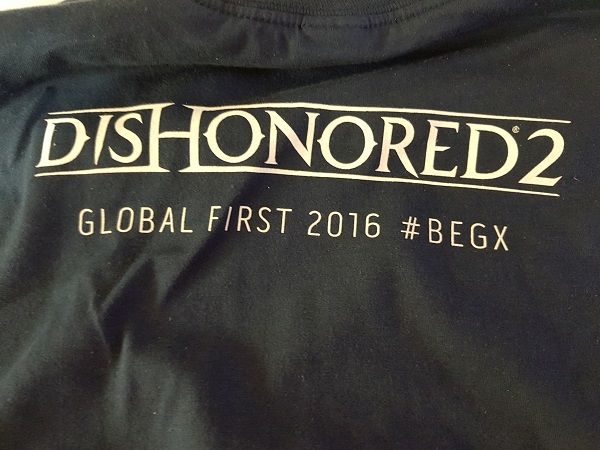 The next game we got to try out was perhaps and most surprisingly, probably my favourite game of the day, and that was Final Fantasy XV, which is being developed by Square Enix. I`ve never played a Final Fantasy game in the past. I`ve always considered them to be a button mash configuration game and I`ve played some really gritty ones in the past where they`ve followed the similar sort of controlling. I just can`t stand those types of games. But, I`d heard good things about the Final Fantasy franchise, so I was pretty keen to give it a go. After one of the longer queueing times, I was taken to an Xbox One booth, and given the hands-on, as I was thrown into the character of Noctis, and I was tasked with taking care of a group of enemies. Now, I have to say, there`s something about it I absolutely loved, and it`s a game that I will now definitely be making a purchase of. It was as if it was something a bit different to whatever I had played before. I`ve played hack n slash and button mashing games and absolutely despised them, as at times there`s no real skill involved, but even as I button mashed the Xbox controller and wiped out all the enemies, there was something about it I quite liked, and I can't quite put my finger on it. It`s a game though that I will definitely be making a purchase of, and hopefully become a fan of the Final Fantasy franchise.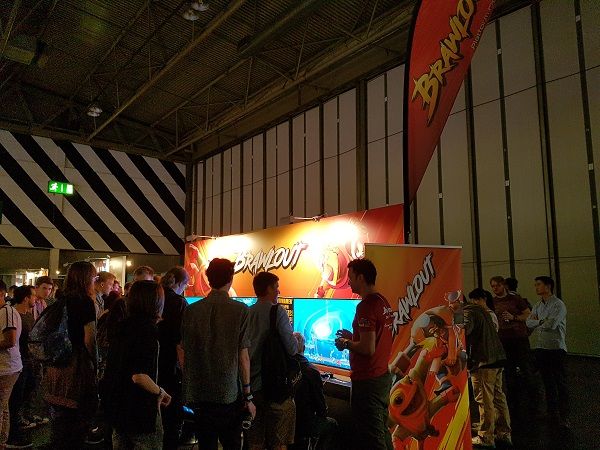 The next point of call for us was a very exciting hands-on experience with the guys from Angry Mob Games, who are behind the new ID title, Brawlout. Inspired by fighting games such as Mortal Kombat and super smash bros, it`s a great little title that is going to be a pretty decent one to play with your friends one day. You`ll pick a character and you`re aim is to be the last one standing. There are elements within the game that you`ll instantly recognize, and it`s very, very easy to see where they have taken their inspirational elements from, and for fans of the Mortal Kombat games or the fighting stylistic games in general, you`ll love Brawlout and it`s a game that`s fully worth a look at. It`s a game that will be coming to consoles early next year, and it`s a game that we are very excited for. Keep your eyes peeled in the next week for an interview with one of their development team that we`ve managed to secure from EGX.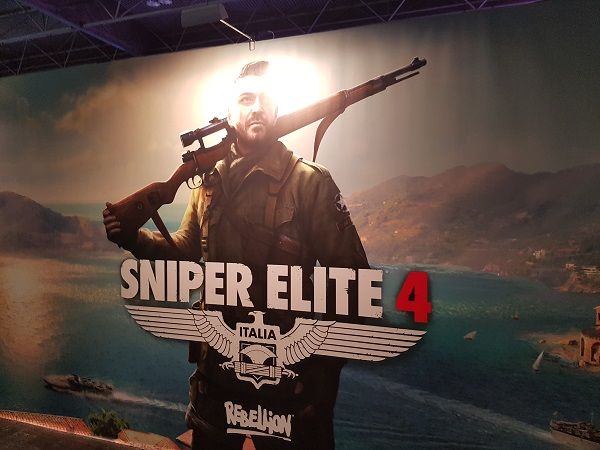 I was especially very excited for this next stage of our day. We were about to have a hands-on session with Rebellion games newest title, Sniper Elite 4, thanks to Rebellion. Sniper Elite 4 is the newest addition to the Sniper Elite series, and follows in the same gameplay mechanics and footsteps of the previous Sniper Elite, and is a game that offers a new and in-depth better experience for fans. Due to being a current-gen only game, Rebellion have been able to offer a much bigger and better game for the fans, and it`s a game that is eagerly awaited. I again was taking on a real challenge of being the sniper (I`m awful at stealth games, I`m more a run in and shoot everyone type of guy, so I have no chance at being stealthy) and you`re aim is to complete the objectives whatever they may be (i.e. blowing up a tank or bridge) to progress your way through the game. But with the game offering a much bigger and better experience, I was finding myself getting side-tracked into completing some of the side objectives rather than the main one (which again, were to blow up certain things) and it`s a game that I could already tell was going to be a mix of side-tracking, and going back to the main missionary objectives. But it`s a game that I`m really looking forward to seeing more and playing early next year when it`s released. And thanks to Rebellion, we will also be covering an exclusive interview with the developers too, keep an eye out for that next week.
Our 2nd to last stop of our EGX journey was to a game that we`d already been to see to try out the new horde mode, but for now, it was time to give the Single player a go. Yep, you may have guessed it, I`m talking about Gears of War 4. We`re introduced to the new characters within the game who appear alongside Gears of War favourite and veteran Marcus Fenix, and we are thrown into a mission where we are having to avoid a storm, and of course, we`re introduced to some of the enemies that have made the Gears franchise what it is today, and our task, is to wipe them all out, and get to the power. I was shooting my way with my favourite gun of the franchise, the lancer and worked my way through what was a very good mission. Graphically it looks superb (Although I must stress that it was running on a high-end PC rather than an Xbox One, but we tried the Horde mode on the Xbox One yesterday and that looked pretty slick too) and with the game release only 13 days away, it won`t be long before we get to the play the full release and the newest addition to one of the most famous and successful franchises in video games history.
Our last stop of the day and the last stop of our tour at EGX, is a throwback time to the retro days, as we went to have a crack at Sega`s Sonic Mania. We were given the opportunity to play the first level, and it is very much a re-mastered version of the original sonic. It still feels the exact same as the original, and fans of the Sonic games and franchise, this is going to be a no-brainer for you. It`s been years since I last played a Sonic game, and I`d completely forgotten half of the controls so it took me a fair while to get through it, much to the amusement of the gamers who were standing behind me in the queue line watching. It`s a game that for a fan will be a must have, but of what I managed to play of today, it is no different to what you have played perhaps before. I`d check out some more coverage of what they have later in the game before deciding whether to buy or not.
That was to conclude Day 3 of EGX 2016 and our last day of coverage for AbsoluteGaming. We have had a fantastic time here at EGX and we have loved every second of it. We`ve have the chance to play some cracking games, watch some excellent games streaming on Twitch, take some awesome pictures with cosplayers (Which I must say, they were all excellent, I cannot fault the effort that cosplayers go to at these types of events, it`s great and you guys and girls add another element to the event) and to be able to meet up and talk to other gamers and developers about something we all share a love and passion for is absolutely fantastic. For all coverage and photos, check out our twitter and Instagram channels at @AbsoluteGaming and absolutegaming.co.uk for Instagram. Stay tuned to us in the next few weeks as we`ll have interviews coming up with the developers of Overcooked, Brawlout and Sniper Elite 4. But for 2016, EGX, you`ve been fantastic, and we cannot wait for next year, starting at EGX Rezzed where AbsoluteGaming will see you there.