Details

Category: Xbox 360 Reviews
Published on Monday, 09 November 2015 02:03
Written by Billy Withers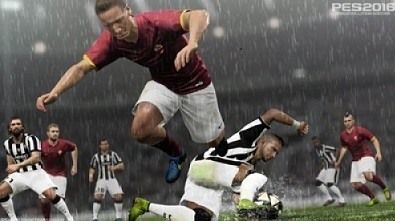 GAME: Pro Evolution Soccer 2016
CREATED AND PRODUCED BY: Konami
I used to be a Pro Evo man. Loved the game for many years, and I mean MANY years. So far back in fact that I'd be calling it International Superstar Soccer and having a dog as a linesman, although in the game today some may think that is unerringly accurate. As the years have went on and the console changes have taken place, so has PES' decline become more and more apparent, right up until the FOX Engine brought about some much needed enhancement and change to Konami's footballing powerhouse. PES 2016 sees the franchise mark its 20th anniversary, but does it do so with a triumphant return to the top, or will it be substituted before half time? 
The first thing I noticed, which I think is actually a FOX Engine thing, is the amount of time it took to actually get into a game from the initial boot up. I would have loved to try a comparison, but I'd reckon I could have been actually starting a game of FIFA 16 by the time PES had even got me to the start menu. It takes FOREVER to get anywhere in the game at all, and that sort of kills the buzz straight away, but let's press on. 
MyClub is more or less Pro Evo's equivalent of Ultimate Team, where you earn coins by playing a load of games to get yourself the team you have always wanted. I would have loved to have told you much more about it, how it was to get packs and so on, but every time I tried to fire it up, it wouldn't start, so I will have to assume it is ok, but not quite up there with FUT. Whether this was because it was the 360 or not, I can't be sure, but it was having none of it, which meant I was having none of it either. 
The Champions League and Europa League are here, as well as the South American counterpart, where you will at least have real clubs and names for those purists out there, but we never had those when PES was king and it still divides opinion. I honestly don't mind and always remember Ruud Von Nistelroom from back in the day. Magic stuff, wasted on the youth of today. 
The big question is though, how does it play, especially to someone who hasn't touched a PES game in years? I can say that it does play pretty well, but I can't help but feel there is something missing, and by that I mean one of those can't put your finger on it "missings". The game engine is smooth and silky in the main action, but sometimes in throw ins it can throw you off with the slight pause in waiting time. The cutaways can be a bit erratic in terms of frame rate, unlike their current gen counterparts and the commentary, provided by Peter Drury and Jim Beglin, whilst being functional and not hugely annoying, does still sound a bit on the vague side compared to the sleek audio on the EA title. 
Some of the problems I had whilst playing it I put down to my sheer lack of playing a PES game properly in a while. I found the goal, free and corner kick system a bit weird at first, but I could see why it does it that way. The actual control system is not too bad at all, to be honest, seeing as how I use "Alternate" on FIFA (you can't get rid of the PES from me completely). The player models are also decent enough, bearing in mind this is a 360. 
Again though, you can't help but feel there is something missing, and if I had to try and point that in a direction then it would be the overall package doesn't quite have the same atmosphere and passion screaming from it like it used to. FIFA has brought that back for me this year because it plays a style of game now that I can really get into. It's hard to get the "feel" with PES 2016, that instinctive union between player, pad and game that you need to have in a sports game. A lot of pro players will know what I'm on about, I'd hope, and as much as it may be true, it still saddens me that it feels like another year where the year of Pro Evo beating it's old rival still hasn't quite hit the mark yet. 
What is does do is what it says on the tin. It plays a game of football and it does it with an efficiency that you can't question, but when you can't feel the emotion that is meant to be interlocked with the beautiful game, you do feel like you're just going through the motions and that just doesn't sit right with me. Again I have to say that FIFA 16 does it better and I fear now that the EA behemoth has just too much ground for Konami to catch up with. The same thing happened to EA themselves when they took a year out after being horsed by 2K with their NBA 2K titles. 
Will we ever see the phoenix rise from the ashes? I really genuinely hope so, as I still have a place in my heart for Pro Evolution/Winning Eleven/ISS in whatever guise it came in and you always want the underdog to come screaming back to take the big gun out. It won't happen this year though and as much as it plays ok, that is all it does. Nothing more and nothing less, especially when some of the main features just won't work. It is like playing 90 minutes with 10 men; it will be a struggle, but it can be done. For me though, I'd rather have the full squad and the franchise I've now called home, along with many others. 
I still keep a PES scarf in the drawer though, just in case. 
Thanks to the Xbox Community for the chance to review this game.