Details

Category: Xbox 360 Reviews
Published on Monday, 09 November 2015 01:52
Written by Billy Withers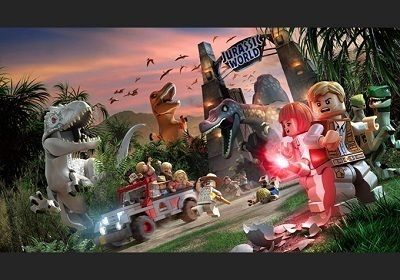 GAME: LEGO Jurassic World
CREATED BY: Traveller's Tales
RELEASED BY: WB Games
If I'm truthful, I've not really enjoyed a LEGO game for quite a while. It's a bit like Call of Duty, in that the rinse and repeat nature of things suddenly becomes so irritating that you just can't be bothered to get into them anymore, hence why I'm taking a back seat with Black Ops III this year. With a break of a few years though, LEGO Jurassic World should hopefully revitalise my enjoyment of these little games for kids of all ages. 
This covers both the original trilogy and the recently released Jurassic World, with the first and fourth movies being unlocked straight from the off, but for some weird reason the Lost World and Jurassic Park III remain unusable until you finish the first film's game. It does make sense, but I would have personally had either one or all, not somewhere in the middle. 
The graphics don't really need a huge narrative, as they are more or less the same as they have been since day one. Everything looks like LEGO bricks and it is nice to have another childhood favourite toy to mix in there with dinosaurs (let's be honest, if you look around in your house hard enough you'll find one you had from a long while back). 
What I have always found good about the LEGO game though is their ability to mix the authenticity of the movies with their own injection of humour. Traveller's Tales have been doing this for a while now, so you could be forgiven for thinking the jokes or visual humour could well get a bit bland and repetitive, but strangely enough this isn't the case. There are some nice twists on key moments in the movies, such as the initial feeding of the raptors using a live cow and of course the initial appearance of the T-Rex, but there are also some little comedic moments just thrown in anyway, but I'm not giving any of those away. 
One of the gripes I do have with LEGO Jurassic World is that they've used the original lines from the movie, and by that I mean actually taken them out of the film and copied and pasted into here. There is a noticeable difference in the sound quality and this, for me anyway, is quite off-putting, especially when there is so much effort put into the rest of the game. For kids this obviously won't matter a jot, but I just believe in effort being equal in all areas and this just feels a little bit strange. Having said that, we wouldn't get voices like Sir Richard Attenborough, due to obvious reasons, so there has to be a balance. 
The main difference between this and most other LEGO titles is that there is not a hell of a lot of fighting and smashing of enemies. This is much more like a puzzler and block grabber than a brawler. This is a great change as far as I'm concerned because the last load of titles in the series has spent too long bashing things in that it needed to mix it up a bit. There are a few open world sections, but it isn't really that well thought out, as in order to change from Park to World you need to either start the game again and get to the choice point or be able to find your way round to that specific area, which isn't always easy. 
There are some fighting points in it, to keep things more interesting, but thankfully they are a bit more random than they used to be, which actually makes them a little more fun, rather than tedious. There are also some on rails sections which are actually really good fun, but I can tell you now you will be going through them again to get those collectables, which is also the reason, as it has always been, for you to carry on after the initial story mode has finished.  
These unlockables are the main reason why you will want to play this for a long time. Dinosaurs are usable and playable if you can collect the amber covered insects. I managed to get the Triceratops early on and the fun of running around the maps charging at logs and knocking down other characters is pretty amusing. It has always been the pick ups that make these games you come back to time and time and this one has more reason than most others, due to the content. 
It may well not be the longest LEGO game in history and there are also other franchise money grabbers in the form of Dimensions, but do not let that take away from these film licenced titles, as they have a consistency that most other companies can only dream about. Granted some have not been quite up there with that major level, but for the most part you feel safe buying any of them and this is no exception. 
To be honest it is one of the more enjoyable LEGO games I've played in a few years, not just because I haven't really gotten into one of them for so long, but it is one I've started and not gotten bored quickly with. That is high praise anyway and with kids and adults alike enjoying the content, perhaps for different reasons, you cannot say this is a risky purchase. The fact you could even improve your children's manners from quotes in this film when threatening not to buy it makes it even more fun ("uh uh uh, you didn't say the magic word...") 
You can't go wrong with this game, or indeed this LEGO behemoth that keeps on going and is built on a foundation made of lovable bricks, but the fact that there are dinosaurs involved and that there is decent mix of story and humour, you can forgive the little annoyances enough to get wrapped up in the fun and splendour. Just need a LEGO Matrix now and I'm done. 
A big thanks to the Xbox Community for the chance to review this game.