Details

Category: Xbox 360 News
Published on Monday, 01 October 2012 03:37
Written by Mike Jenkins
I was delighted to hear that AbsoluteGaming had been invited by XCN to attend a special community event for Halo 4, and that I was allowed to represent the site.  I've been a big Halo fan since the first game, and while I believe the last 2 games have lacked a little something, I've been very optimistic about the first in a new trilogy of Halo games.
For those of you that don't know, Halo comes from developer Bungie, who have now stepped down (due to separating from Microsoft and becoming an independent studio), and have passed the reigns over to new guys 343 Industries.  343i were created by Microsoft in 2007 to oversee the future of the Halo franchise, but this is their first full game from scratch after remaking the original Halo in the form of Halo:  Combat Evolved Anniversary.
I arrived at the location of the event far too early, and was told to go away and wait for another 45 minutes (apparently I'm too keen!), so off for a coffee I went.  I went back and a queue had formed to which I joined.  We were eventually led into a basement, and upon opening the doors we were greeted by a dark, neon lit corridor which led to glass doors and a huge image of Master Chief.  This was it; I was getting more excited with every step.  There was no reason for me to be in this state.  After all this is a game being made by a new developer to the franchise, how was I to know how they had treated it?  Had they ruined what has been one of my favourite gaming series'?  I was soon to find out.
Through the glass doors the now familiar neon lighting (switching from red to blue) continued as the room opened up to show 2 rows of screens, and a handful of set ups on round tables.  Next to the entrance was the bar (my first port of call with one of my 3 free drink vouchers) which was, of course, Halo themed with Master Chief emblazoned behind the staff.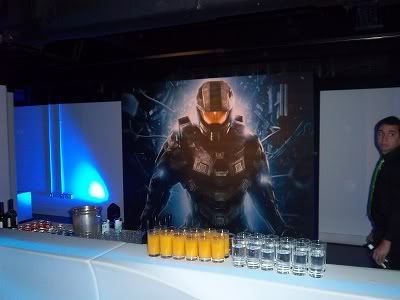 We were soon sat down as Jon Hicks (editor in chief over at Official Xbox Magazine) welcomed us to the event.  This was the first public hands on of Halo 4 multiplayer in Europe, which was something I didn't know before turning up, but made the event feel a little more special to me.  Frank O'Connor, the Franchise Developer Director for 343i then took to the stage for a quick talk.  He quickly acknowledged Bungie and everything they had done with Halo, which have 343i the platform to build upon for Halo 4, and accepted that 343i have had a huge task to live up to with the game.  After the brief talk we were simply told to 'go play', which we all happily did.
There weren't enough consoles for people so we all took it in turns.  But I had a good 40 minutes on various game modes.  Spartan Ops, is a great new game mode coming to Halo 4.  It will provide 'series' of episodic content for the game.  Each 'episode' will throw you and up to 3 others (they can be done as a single player experience) into a short level with a number of objectives to complete.  There were two Ops available to play – "Land Grab" and "Sniper Alley". The level that I played pitted us against the new adversaries – the Prometheans.  Along with these came a whole new weapon set.  It's a risky game introducing new enemies to a Universe that is so familiar to the fans, but it works.  The Prometheans are completely different to any of the other enemies in Halo, and as such has you thinking of new tactics to defeat them.  And each of their weapons fit nicely into the already defined weapons class system (SMG, pistol etc.), but bring with them a new look and feel.  All the series regular weapons make an appearance aswell, so don't be concerned that your favourite Spartan laser has had to leave to make for new items, everything is still where it should be, you're just getting more.  The idea of consistent free (yes FREE!) weekly releases of episodic content it one that I am a fan of, and, on the basis that the storyline to accompany the content is strong, 343i could be on to a winning idea on how to prolong the life of the game.
But of course a strong multiplayer mode is another option that will see the game's life last a long time.  And it wouldn't be a true Halo game without a multiplayer mode.  Halo: Reach for me didn't quite feel right playing in multiplayer.  I can't describe what was wrong with it, but something didn't grip me in the way Halo 2 and 3 did.  War Games is the Halo 4 multiplayer suite, ranging from your standard Team Deathmatch to new modes such as 'Flood' (a variation on Infected which allows you to play as the flood).
And after having a go at a few different game types, I can happily report, that I can feel the Halo tingle again.  That urge to play just…one…more.  And when we were told we had to leave, I didn't want to get up.  I wanted to have the game at home to play some more multiplayer.  343i have introduced some new features to multiplayer.  You can now sprint whenever you feel like it, and there are COD style killstreak awards – not sure the full details on these, but I used the overshield a few times.  The armour abilities also make a return a long with armour customisation options.
We were allowed to play on a new, as yet unseen map  called 'Ragnorak' which is a remake of Halo 3's Valhalla map.  A new land based ground stomping mech type vehicle was on show on Ragnorak – The Mantis.  I can't elaborate much further on these, as I didn't get to play on the map during my play sessions.  Can I also mention that Halo 4 is the best looking and sounding game of the series to date. Everything seems sharper, and it's lovely to see.
If all the above wasn't enough, near the end of the evening we had a visit from Master Chief himself.  Don't believe me?  Check out the image below.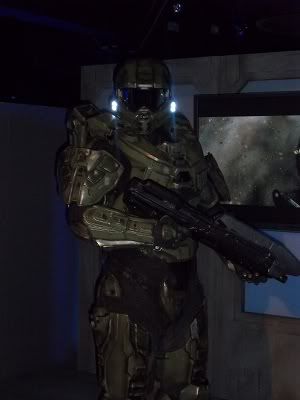 I am happy my optimism has been justified.  Halo 4 could have quite easily fallen flat on its face, but developers 343i have seemingly thrived under the pressure and have made a game that just feel so….Halo.  With added bits to put their own twist on the game it all fits well to me.  I can't wait for this to hit shelves on November 6th, I can see me losing myself in the Halo Universe once again.