Details

Category: Xbox One News
Published on Friday, 19 June 2015 16:43
Written by KrustyManMeat

Many, many years ago when the original Xbox was in its infancy Ghost Recon came along and changed the way we played shooters on consoles. This wasn't your typical no brainer all guns blazing approach. Ghost Recon forced you to think about how you approached situations. Sure you could go in without any thought but most of the time you would end up dead. Communication and planning was key and teammates shouting "Bridge by the rock is clear", "Overhead ridge by hut is clear", "Enemies on left flank clear" or just plain old "Left hand side clear of enemies" and if anyone else was sitting in the same room as you while you were issuing these commands you would be getting some funny looks. Ghost Recon's dominance in the tactical shooter genre was unquestionable and it remained that way for many, many years. The last console release of a Ghost Recon game was 2012's Ghost Recon: Future Soldier and what a load of arse that was and for the next three years total silence, until now.
At the end of their 2015 E3 conference they had one more surprise to announce and I will let the trailer below do all the talking.
Now take a deep breath and exhale. Did you see that shit? It doesn't get much better than that my friend. Set in present day Bolivia this beautiful South American country has become the largest cocaine producer in the world. The influential and vicious Santa Blanca drug cartel has turned the country into a narco-state, leading to lawlessness, fear, injustice, and violence. The cartel is on track to becoming a major underworld power and global threat.
An all-out war is not the answer. A surgical, stealthy, lethal approach is the only way to stop the disease at its source. The Ghosts, an elite US Special Forces team, are sent behind enemy lines to wreak havoc, destabilize, and eventually break the alliance between the cartel and the corrupted government.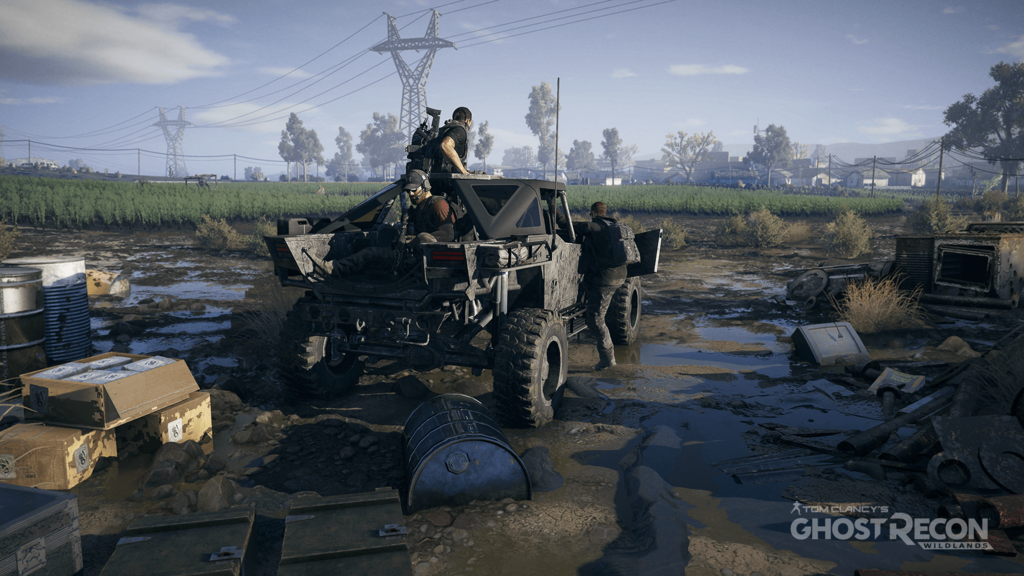 Facing an almighty enemy in a massive and hostile environment, the Ghosts will need to make critical moral choices and engage in tough battles to complete their mission – their grittiest and most dangerous operation to date.
Drones will still be featured and can be used to tag and highlight enemies and objectives, or as a weapon to attack enemies. The game will be the first entry to feature an open world, which feature nine different types of terrain such as mountains and desert, with a dynamic day-night cycle and weather system.Carrying out mission during daytime allows players to spot enemies easily, while completing missions at night grant players tactical advantage, as the night offer players better cover. Players are also tasked to make observations before carrying out missions. A variety of vehicles, such as dirt bikes and dune buggies will be feature in the game.Wildlands will feature side-missions, unlike its predecessors.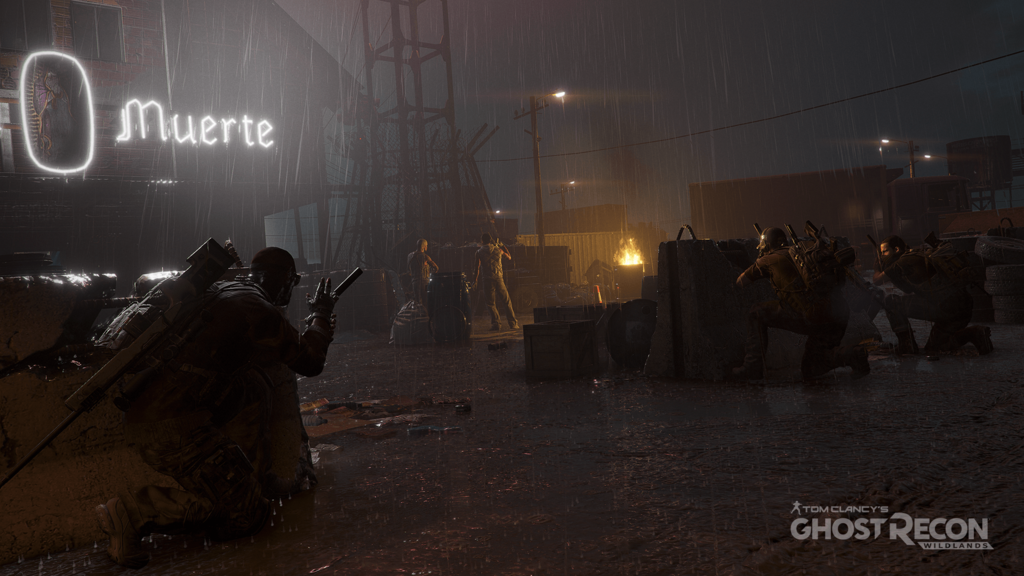 When completing missions, players can reach the location where the mission starts through a variety of ways. Players can parachute from a helicopter or to drive towards their objectives Players are allowed to use multiple ways to complete objectives, such as utilizing stealth, melee combat, or using the long-ranged or short-ranged gadgets provided in the game. Between missions, players are free to explore the game's world, and will feature outposts that can be taken down by players. Players can also grab one of their enemies with one of the hands for defense, while using another hands to shoot
When not completing missions, players can interact, and build a friendly or hostile relationship with other non-playable characters, such as the citizens, officials or the Rebels of the world. These interactions require strategy, as interactions will brought consequences and impacts to the game's world, and change how players achieve their objectives. ]Players can also gain experience point to level up. The playable character can be customized. The loot found on enemies' corpses can be equipped on the Ghost. Weapons and gears can be upgraded as well. According to the creative director of the game, the AI of the game will be unscripted and will have their "own motivations and agendas".The game will also feature four-player co-operative multiplayer, in which players can be joined by three other players to explore the game's world and to complete campaign's mission.
Already three years in the making and being led by Ubisoft Paris, in collaboration with five other Ubisoft studios - Ubisoft Annecy, Bucharest, Montpellier, Milan and Reflections studios the game boasts largest open-world environment the company has ever created. It is the very first military shooter set in a massive, dangerous and responsive open world that players can play entirely in 4 player co-op or solo.
So if that doesn't get you salivating for more than nothing else will. The release date is a closely guarded secret at the moment but when we know you will know.