Details

Category: Xbox One Reviews
Published on Sunday, 19 March 2017 15:51
Written by KrustyManMeat
Eat, sleep, build, repeat

My name is Steven Millward and I am an AFOL. I have zero shame about admitting that because LEGO has and always will be a huge part of my life.I've bonded with my Stepson over our mutual love of the brick and I can't wait to get my hands on the latest Star Wars set or console game. Travellers Tales have become the go to developer when it comes to licensed LEGO games on consoles and PC but LEGO World's is a whole different ballgame.
TT have really set the bar high with their relentless schedule of licensed LEGO games but LEGO Worlds is their first game that isn't backed up by any licensing or any other brand apart from LEGO itself. This is where LEGO
Worlds comes in. It is is a 3D sandbox game where you get to build your own world using all the tools at your disposal and LEGO bricks/items that you uncover during your playthrough of the various prebuilt levels which also serve as the game's tutorial levels.You start the game in space aboard your spaceship when disaster strikes and you're hit by a meteor shower that sends you hurtling towards the biome below. I was pleasantly surprised to find myself shipwrecked on a pirate themed biome full of personality and humour. Even though this is one of the smaller planets you encounter it bristles with the kind of energy you find in every game TT have made so far and as always it's very welcome. The pirate world is where you will learn the basic skills you will need on your quest to become a Master Builder.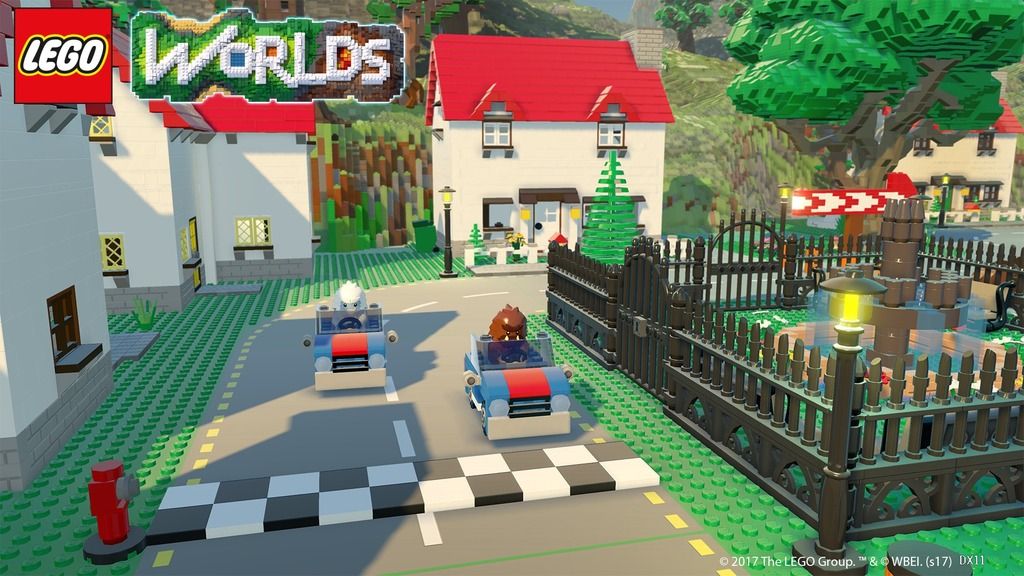 To help you attain the rank of Master Builder you are given a set of tools and each tool has it's own unique ability. But the one you will use the most during the story mode is the Discovery tool. When you point this at an object or minifig in the game it allows you to collect it which adds it to your library of props, builds, characters, creatures, and vehicles which you can then use to complete various quests or build your own world when you have unlocked that option. The goal during tide story driven levels is to collect studs and gold bricks. The studs you collect are used to unlock the various models you have discovered with each costing 250 studs. Studs as always are collected by destroying the world around you and picking up your spoils as they drop to the ground. Remember how you crashed your spaceship at the beginning of the game? Well gold bricks are your key to fixing it and enabling you to fly to other biomes. There are various ways to pick up gold bricks. Some you will receive as rewards for completing quests, sometimes you will find them in chests or you can simply steal them off various characters. Collecting 100 gold bricks allows you to achieve the title of Master Builder and create your own worlds.
When you begin to explore the larger universe it quickly becomes clear that everything you need to complete quests isn't just handed to you on a plate. For instance there are a lot of water challenges that you need to complete but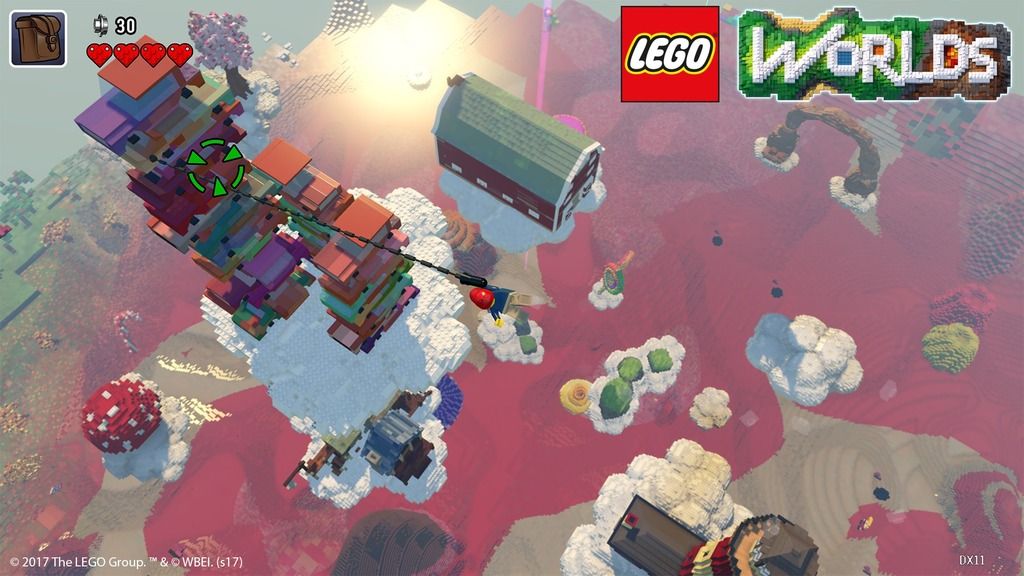 without the correct diving equipment you won't be able to complete them. You will need to do a lot of exploring and travelling from one biome to another to look for the right equipment become commonplace. Now that might sound tedious but in a game that's chock full of comedic moments I found myself getting lost in the chaos and enjoying these moments. My Stepson would disagree with me on that one though because after a few hour of seeking out the gold bricks he was becoming bored of the grind and if he was gaming on his own he would have given up a long time ago so you do have to prepare yourself to grind your way to master builder status and if you have a short attention span this won't be for you.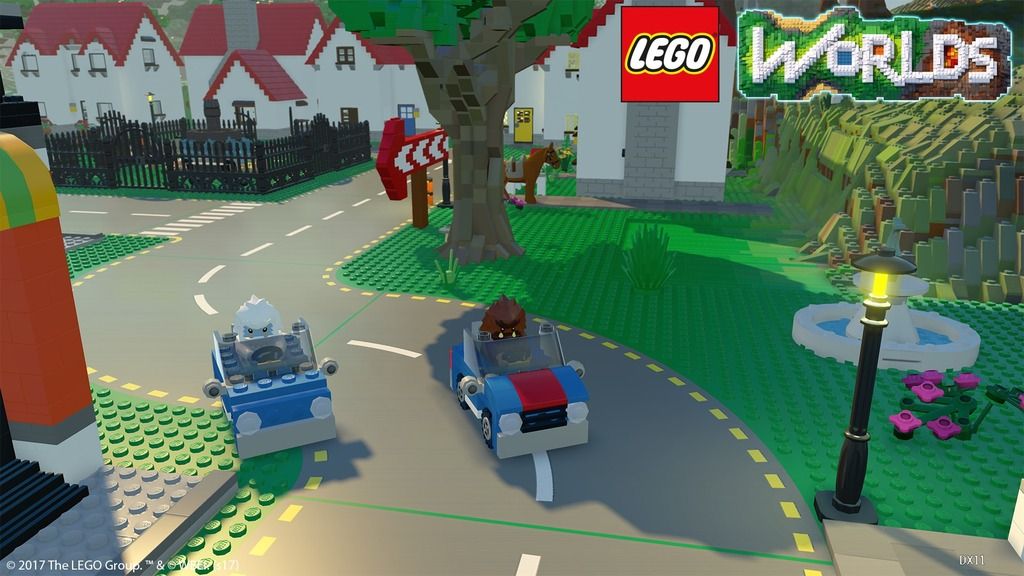 As much as I'm loving LEGO World's the game isn't without its technical issues. The camera can be a complete nightmare in small spaces and considering that you'll be playing most of the game in third-person it quickly becomes frustrating with very little movement or the camera just warps out of buildings as they are not there. You can switch to first-person mode but the camera becomes even more limited. There are some frame rate issues which aren't game breaking but become worse in co-op as the game stutters along and in some instances disappears completely. One bizarre instance saw my Stepson and I out race the scenery because the game couldn't draw in the terrain quick enough and we were left pushing against an invisible wall while we waited for the game to catch up to us. These instances are rare but it sends out a clear message that it's still a work in progress which is a shame.

LEGO World's is fantastic sandbox game made all the better by having unlimited LEGO resources at your disposal. I'm having way more fun than my fourteen year old Stepson but that's down to different expectations. I don't mind grinding away as long as it's fun whereas my Stepson wants it handed to him on a plate. This is not Minecraft and my Stepson has made no bones about telling me how much more you can do in that game compared to this one. Maybe this will impact on people's opinions but it really shouldn't.
There is a definite work in progress vibe here but nothing is game breaking and I'm sure TT are in this for the long hall which will give them an even bigger scope to build upon. The £19.99 price point also deserves a mention and it's a wise move which should entice even more people in. If you love LEGO then you will love LEGO World's. Now leave me alone because I have a world to build.
Developer: TT Games
Publisher: Warner Bros. Interactive
Website: LEGO Worlds
Twitter:  /  / 
Review code supplied by Think Jam