Details

Category: Xbox One Reviews
Published on Sunday, 19 March 2017 14:57
Written by KrustyManMeat
"The greatest loss is the loss of life." 
Frederick Raynal is the Daddy of all survival horror games in my eyes. I grew up playing his Alone in the Dark series. His work has inspired many game from the Resident Evil series all the way to Silent Hill and now after a long absence he's back with 2Dark but can he still bring his A game. 
You play as detective Smith who has lost his entire family on a camping trip. It was on this fateful trip when your wife was murdered and your two children abducted without a trace. Forward several years and we find Smith has devoted his life to finding missing children. As Smith you get a strong lead via the news that a group of children have gone missing near a long forgotten forgotten amusement park but this is just the first step into what will become a deeply disturbing case and that's no exaggeration. 2Dark doesn't shy away from showing you how nasty things can get for missing children. Some of these things will be in your face when you come across their beaten and tortured bodies but other times you will find photographs and written notes that explain the depravity of the acts there poor children had to endure.
2Darks gameplay is a good mix of survival horror and stealth. You will soon find yourself using the shadows to hide and use it to you advantage so you can pounce on the unsuspecting kidnappers who are taking the children. I love this aspect of the game. It makes you really think about how you approach each level and requires planning and a lot of thought. Do you go in all guns blazing, become one with the shadows or use distraction to fool your enemies. You do have a limited amount of resources available like batteries and gas for your torch or lantern and ammunition.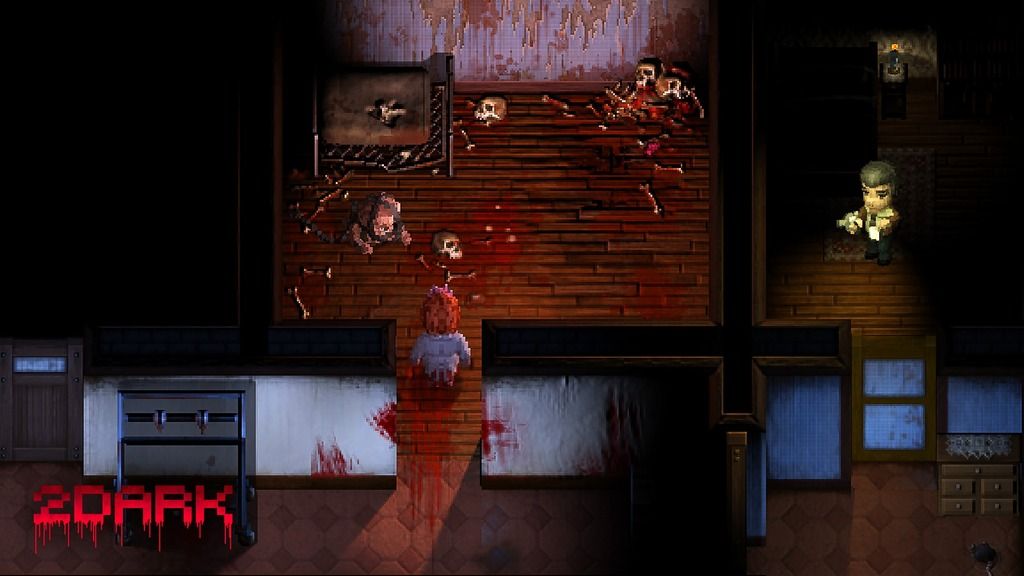 Every action you make has a knock on effect. Some characters will have a set routine that they must complete and if 
that routine is broken because you have killed them, others will go looking for them and God help you if their body is found because getting around will get a lot harder. Having to lure your victims into a partially lit area so you can dispatch them is a great little mechanic which adds an even more stealthily edge to the game.

Graphically 2Dark has a great style. It's colourful but not to bold and the characters while not the best I've ever seen in this style of game have enough personality to pull it off. The lighting is the main player though with different levels bathed in different amounts of illumination which is a constant theme throughout the game. Switch your torch on and the area immediately in front of you erupts in a cone of soft light but use a lantern and your immediate area will light up. Smoke a cigarette and it lights up your face. They are small touches but they give the light a life all of its own.

2Dark is a great game. It's an enjoyable thriller that had me on the edge of my seat throughout. It doesn't pull any punches in its depiction of violence towards kidnap victims and that might put some people off but it gives the game a much needed sense of urgency. With only seven levels to complete it's not going to take a lifetime to finish it but what is there is worth the ride.
Developer: Gloomywood
Publisher: Bigben Interactive
Website: 2Dark
Twitter:  / 
Review code supplied by PQube