Details

Category: Xbox One Reviews
Published on Wednesday, 10 June 2015 03:27
Written by Mike Jenkins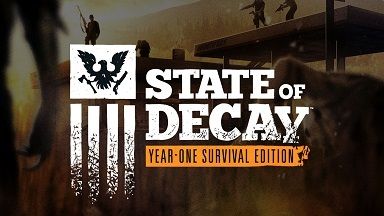 State of Decay has recently been released on the Xbox One, and is another notch in a long run of games that has been re-released/remade for current gen consoles.  It gained great plaudits when it was originally released in 2013 on the Xbox 360.   It is at third person survival horror RPG game which takes place in a persistent open world – a bit of a mouthful.  Expect third person action gameplay which features plenty of resource management, and a whole host of zombies.
I'll say first and foremost, if you're hoping for a graphical upheaval and a plethora of new features as an excuse to pick this up again then look away.  It still very much looks like an Xbox 360 game, which is plagued by technical issues.  It really hasn't been optimised very well at all.  It suffers from frame rate issues as well as obvious pop-in problems and clipping issues.  The latter can make it so any stealth style approach you make want to take to a situation is hindered due zombies being half way through a wall, and see you coming.  It would be disappointing if this was something that happened now and again, but it is a constant presence in the game, and it really does detract from the immersion that you could potentially have.  One more problem that I encountered was vehicle collision detection; I regularly was driving along, and would hit an object that it would appear I was passing by a good few centimetres.  Now I know this isn't a car based game, but you end up wrecking cars a lot quicker due to this problem.
Now to move away from the technical issues; and I will say that State of Decay has a lot going for it if you can look past the graphical disappointment.  If you're looking for a zombie survival game, especially if you haven't played it before, this is probably just what you need.  The systems in place here require the gamers to think about what they are doing, and when they are going to do it, and need a lot of micromanagement to stay on top of.  Things to think about include – health, fatigue, relationships, resources, injuries, carrying weight and more.  There is also a need to create and develop your home base and outposts, what you do and build will lead you to be able to do different things in the game.  For example, creating a workshop will allow you to build suppressors, a better kitchen will lead to more effective food and health boosts.  It all sounds a bit deep and daunting, and in a way it is, but it is all easily accessible through a simple menu system.
I found that State of Decay seemed like a game that you need to sit down for a few hours to get the most out of it, but I didn't feel like there was enough there to keep me engaged for long enough.  Through my time with the game there was a lot of fetch quests, observing from towers to find new locations, and going back and forth to places I'd been plenty of times before. The story is told through a series of simple cutscenes showing characters having conversations, and through radios calls.  It wasn't enough for me to buy into what was happening - which is a shame, because with some changes, it could have been a game that I would lose hours into.  The combat system also feels somewhat lacking with simplistic hand to hand controls and mechanics, and limited scope for shooting – due to the attention you are likely to get from surrounding zombies (unless you are using one of the limited use suppressors).
There is a lot to do in State of Decay, you're looking at around 25-30 hours to do everything, and that is just the base game - I only spent around 6 hours with the game so there is plenty for me to still see.  The Year One Survival Edition also comes with the two substantial DLC packs.  Firstly there is Breakdown – an open sandbox with no story line that puts your survival skills to the test as you lead a group of survivors attempting to repair a 'RV' and escape the valley map.  Secondly Lifeline puts you in the shoes of the military in the first few days of the zombie outbreak.  Undead Labs are onto a winner with their additional content, keeping it fresh with whole new maps, and premises.  Lifeline in particular for me was very fresh, looking at a complete other point of view, with what should be a more beneficial scenario with military equipment behind you. 
For the price of the game and amount of gaming there is available State of Decay is definitely worth a look, especially if zombies is your thing, you'll be trying to survive and escape and hordes of them in all 3 games.  There was potential here for it to be a must buy game and put itself up to the top of the must play games on the X1, however with its shortfall, and lack improvement over the 360 version it will stay at only a decent game, where it should really be pushing towards great.
**Thank you to the XCN for the opportunity to review this game**