Details

Category: Uncategorised
Published on Tuesday, 06 October 2015 11:42
Written by KrustyManMeat

When the premise of a game is for you to eradicate all human life on planet earth you are usually handed a vast array of guns, bombs and vehicles to help you achieve your goal. Plague Inc Evolved by Ndemic Creations does things very differently by giving you the means to start a world extinction plague event. Plague Inc was originally released as a free-to-play title on mobile and tablet in 2012 and has now found its way onto the Xbox One via Microsoft's ID@XBOX programme. Thankfully this isn't just a straight port of the mobile version and several elements and gameplay additions have been included.
When you start the game you will have to choose one from several pathogens, bacteria, virus, fungus, neurax worm, parasite, prion, necroa virus, nano-virus, bio-weapon or immune plague all of which you unlock after each successful playthrough. After you have made your choice you get to choose which difficulty to play on and you also get to name your new pet. I always name mine Reece after my Stepson. Now this is where things get investing. Now you pick the country where patient zero will start to spread your virus. Picking a hot country means it will develop a natural resistance to warm climates but will struggle to spread in colder countries. How easily can your virus spread from one country to the next is another concern. Are there a lot of airports and harbours that can help spread it across the world or is it an isolated country with very little international travel.
When you have decided on your location your dastardly plan to wipe out humanity can begin in earnest. You will now have to pick how your death dealing pet will transfer from person to person and country to country. There are several options and each one is upgradable to make the transmission quicker. You can choose from Air, Water, Birds, Rodents, Livestock, Insects and Blood. Once you have set the wheels in motion it's time to sit back and watch as your pet pathogen takes hold. As your virus spreads DNA bubbles appear over infected areas and you must burst these to gain DNA points to spend on buying new Transmissions, Symptoms and Abilities or upgrading the traits you already have. The abilities menu let's you strengthen your virus with new traits making it more resistant to Heat, Cold, Environmental Hardening, Drug Resistance and Genetic Reshuffling.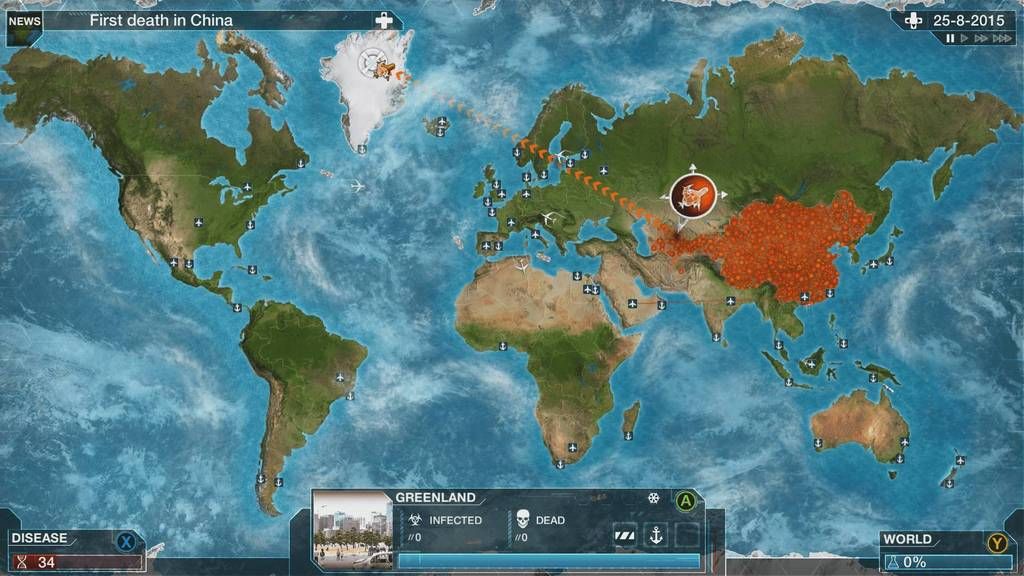 Your screen is dominated by a global map of the world and as the virus takes hold red dots start to appear. As the number of infected people increases so do the red dots. Patience is a virtue now so keep evolving and upgrading to help spread and strengthen your virus.  If your virus starts to show symptoms too early it will be detected and eradicated very quickly. The trick is to infect as much of the world without being noticed. Random mutations will start to affect your virus making it more visible to detection so you must keep a very close eye on it and devolve the virus as soon as it mutates.
When your map is a sea of red dots the fun really begins. It's time to start unleashing your pet's symptoms on the world. Time is still against you though because the minute deaths start to happen you will be noticed. You must unlock your symptoms hard and fast and continue to upgrade then as soon as you can. There are multiple ways to kill on offer. You start off with quite mild symptoms such as nausea, cough, rash and insomnia. These all branch off to increasingly deadlier symptoms like Hemorrhagic Shock, Internal Haemorrhaging, Necrosis and Total Organ Failure to name just a few. As the virus cuts it's way through the world's population the global map starts fading to black but the game is still not over. You must still keep an eye on cure development and if it's getting close throw in Genetic Reshuffling if you haven't already done so. I have lost the game on multiple occasions because a country has developed a cure with only a few thousand people left. I have put hours into the main game and have barely cracked the surface.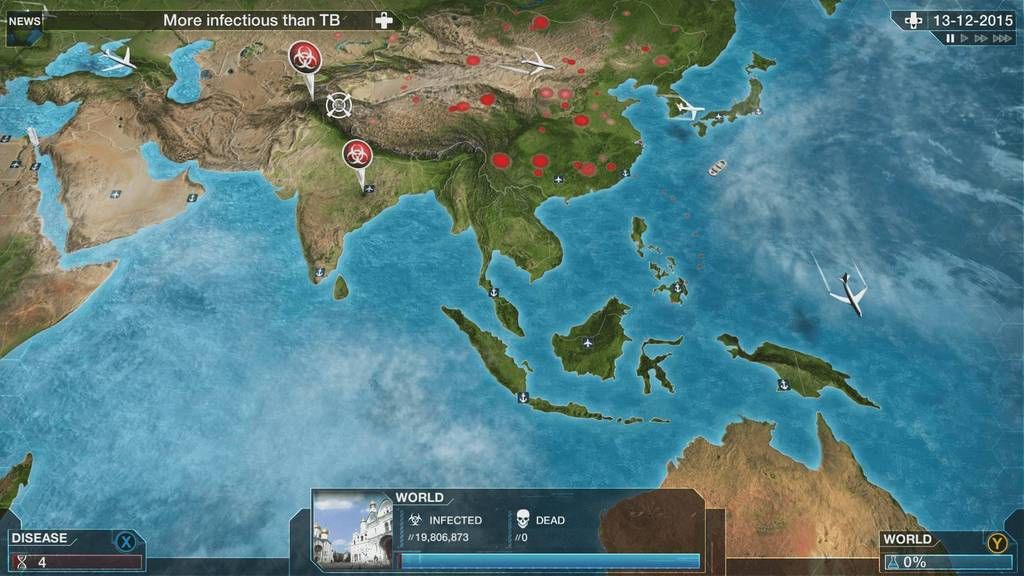 There are two other modes to play around with one is Speed Run which is self explanatory the other is a scenario mode.Scenarios are a game mode that lets the player start with partially evolved, new strains of real life diseases, or play in alternate versions of the world. To complete each scenario you must earn 3 biohazard symbols on any difficulty. You get to play around with Black Death, Nipah Virus, Smallpox and Swine Flu to name just a few. There are also unique scenarios where you have to accomplish specific goals. Santa's Little Helper tasks you with bringing laughter back to the world by infecting everyone with the Neurax Worm or Xenophobia where anger over immigration, globalisation and exploitations trigger a rapid increase in hostility towards foreigners worldwide. Countries heavily fortify their borders - significantly reducing the amount of cross border traffic worldwide. There is so much to do here and Ndemic have confirmed that multiplayer is being worked on and will be released as a free download. How this will play is still a mystery but at least they are keeping the game updated.
If this all sounds very confusing it isn't. The menu system that drives the game is simple to navigate and understand. My main concern here was this is a game that was originally built from the ground up to work on touchscreen devices. So the leap to a joypad could have been a complete shambles. But Ndemic have kept it simple. By displaying each button by its  menu so there is no mistake when trying to remember which button opens up which menu because it's all there right in front of you. Which also brings me to one of the game's glaring faults. The game does not fit the screen properly and is too big so the information you need to see is partially offscreen. Because I have played the game for so long now that doesn't really bother me because I know which button to press to access the information I need but it would be extremely off putting to someone new. I have spoke to Ndemic about this problem and they are aware of it and a patch is incoming. Just as I was putting the finishing touches to this review Ndemic messaged me on Twitter to tell me that the patch has been submitted to Microsoft today and is now awaiting approval so hopefully that fix will be released this week.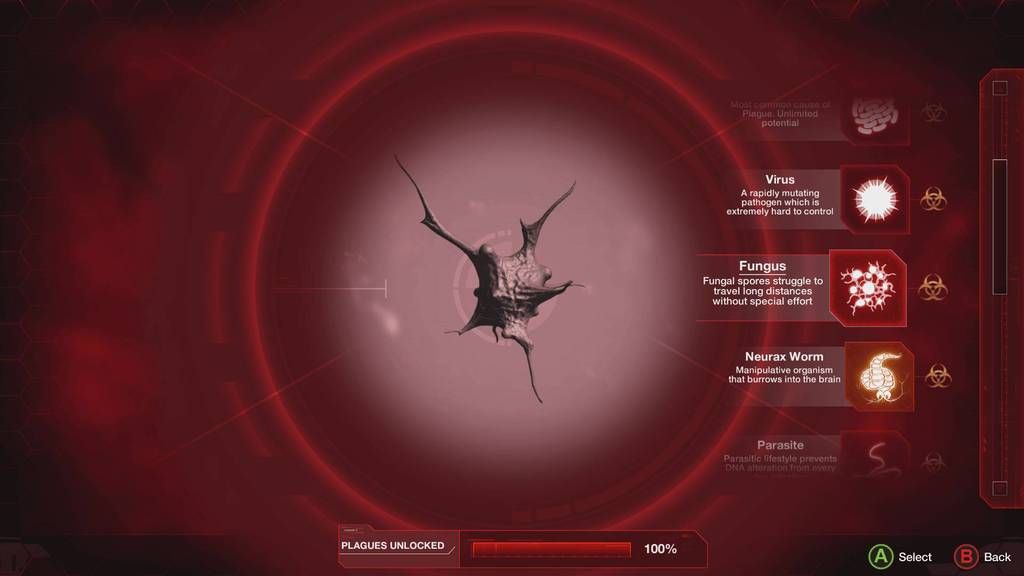 I love Plague Inc Evolved and have been playing it on my mobile for years. I thought I would pick this up on Xbox One and breeze through it but the game has been updated so your old methods don't work as easily as they once did so it's like starting from scratch. I have already sunk a lot of hours into the game and will continue to do so. Plague Inc Evolved isn't for everyone though. Most of your time is spent looking at a map of the world watching planes, ships and red dots. So if you like your games hard and fast you're better off avoiding this. This will keep me going for months and I can already envisage sitting in front of the TV with a friend full of Guinness and just losing myself for hours. My only other gripe is the price. For a game that's been around for a good few years now as a free-to-play game, asking £11.99 is just absurd and if I hadn't received a review copy I would never have paid  for it when I can simply download it to my phone or laptop for free. Hopefully this will become available in a Deals With Gold sale pretty soon because otherwise people will avoid it.
Review copy supplied by XCN.
Game: Plague Inc: Evolved.
Genre: Strategy game, Simulation video game.
Developer: Ndemic Creations.
Publisher: Ndemic Creations.
Platform(s): Xbox One.